Do you, like me, love taking pictures? And do you absolutely love it when you can take pictures of your favorite artist and the festive atmosphere at a concert or festival? Then you have come to the right place here. In this blog I will describe techniques and tips you can use to take the most beautiful photos at festivals. Also, I will list the best festival camera settings for beginners.
On this page:
How to Photograph at Music Festivals
Festivals bring a lot of nice lighting effects and atmosphere to photograph. People are dressed to their best and going completely out of their minds. This makes photographing at festivals fun, but it can also be technically difficult. To take good photos at a festival, it is important to bring the right gear, arrive on time and use the right settings, among other things. We give you the most important tips for shooting the best photos at a music festival below.
Festival Photography Tips
Take the following tips into consideration when you're going to shoot at a music festival.
1. Arrive early
Enter the festival grounds as early as possible, before all the crowds arrive. Walk around the terrain ahead of time and see which spots have nice details for great photos. This will give you a better idea of the festival you will be photographing, where the stages are and where you should be at what time. Moreover, now everything is still clean and fresh, that will be different after a few hours after the festival starts.
It is also important to arrive on time if you want to photograph your favorite artist on stage. Of course, you want to have the best spot, and not suddenly have a large person standing in front of you blocking all visibility.
Are you a professional photographer? If so, always introduce yourself to the stage managers first and ask at which spots you can and cannot stand.
Are you a hobby photographer? Then it is important that you arrive on time because you do not have access to the press pit or "photo pit": the area in front of the stage for photographers and security. 
Tip: an easy way to get to the front faster and still see enough is to walk in through the side at the front, rather than through the crowd at the back.
2. Do not photograph people who are clearly on drugs or drunk
At a festival, people go completely crazy. Some maybe a little more than others. It is no secret that at all festivals there are people who use drugs, or get completely drunk and off the charts. But it is not something for the visitors themselves or for the organization to advertise. It is best to avoid photos of this kind of people, and look for enthusiastic fans, people with awesome outfits or cozy groups of entertaining people.
3. Make sure there are no weird objects in your photo
Do you know the situation where you think you've taken great photos, only to find out later that a trash can is suddenly prominent in the picture? Or maybe someone is wearing a very eye-catching jacket or shirt, and this person draws all the attention in the photo when you were actually focusing on something else? It is thus important to pay close attention to all objects while shooting photos. Sometimes it is not possible to photoshop out certain objects decently. Of course, you can always try using online tools, such as the spot removal tool in Lightroom.
4. Go for spontaneity: don't use posed photos
For beginner photographers, it can be difficult to recognize and capture the spontaneous moments. Spontaneous photos always give the best impressions of the atmosphere at a concert or festival, when people are acting naturally and expressing themselves in ways that could not be staged. To learn to recognize these moments well, it is important to develop your observational skills. Take a pause when walking and slow your pace to take a much closer look at the interactions of people.
Tip: at the beginning of the festival, near the entrance, there will be a lot of energy and excitement among the visitors. After all the waiting, they can finally enter the holy festival grounds! Try to capture this.
5. Use the right festival photography settings
Your camera's settings are an important part of taking great festival photos. The burst mode and continuous focus works best for photographing at music festivals. At a festival, a lot of people move back and forth quickly; this is where the burst setting comes in handy. If you shoot several photos in a row, at least one of them will probably turn out sharp. In addition, never, ever use flash. Imagine 20 photographers using flash at the same time, not only will the light in the photo itself become ugly, but you'll also blind the people/artists.
Other important concert photography settings for professional cameras:
RAW format: this way you can change your parameters such as saturation or exposure.
Auto White Balance: with white balance you combat the unwanted colors in your photograph. 
A high ISO: when you have a higher ISO, you need less light for the perfect exposure. Especially at festivals, where the light is limited in the evening, this setting will help you get your pictures right.
Central autofocus point: use this setting when it's getting darker, or when you are in a place with less light. No matter what the artist or crowd you are photographing is doing, you will get the sharpest results.
A fast shutter speed: if the artist or people are moving a lot, a fast shutter speed is recommended. With this setting you can freeze the person's actions.
6. Wear comfortable clothes and shoes
Okay this tip does not necessarily have to do with photography, but it is important to get through the day as a photographer. You will be walking back and forth a lot and making quite a few yards, so wear fine and comfortable festival shoes. In addition, I would always wear earplugs and bring a poncho just in case rain is predicted. Will you be shooting for several days at the same festival? Then make sure your festival packing list is complete and bring some extra snacks in case you need a sugar hit.
7. Don't only look at the stage
Yes, sure, a lot happens on stage and this is also where most of the action takes place. But if you want to capture the overall atmosphere and vibes of the festival, you will have to look beyond just the stage. Walk through the crowds at the food trucks, find the cozy corners. Is an artist playing while the sun is setting? Look behind you, up in the sky!
What Photography Gear to Bring
If you are going to work as a professional photographer, there are several things you need to bring with you to the concert or festival. 
Camera body: first, you need to bring a camera body. For small gigs only one camera body will suffice, but for music festivals it is recommended to bring a second camera body. This is because if you need to switch gear it can be done much faster than if you bring one body.
Camera lens: in addition, you need to see which lens is suitable to take with you. Since there is little light on festival nights, it is best to bring a lens with a wide maximum aperture for this time of day. However, for during the day, a telephoto lens, a mid-range zoom lens and a wide angle lens will do just fine.
Memory cards: you would not want to think of your memory card filling up in the middle of a gig. So be sure to bring memory cards with a large capacity or some extra, just in case. The same goes for batteries by the way, bring extra batteries if you will be using the camera a lot.
Tripod: do you want to make long-exposure shoots outside of the press-pit? Then a tripod can come in handy. A disadvantage is that you have to lug it around with you, which again is extra weight.
Festival Photography Packing List
Below is one more helpful list of important photography items that should not be missing for your next photoshoot: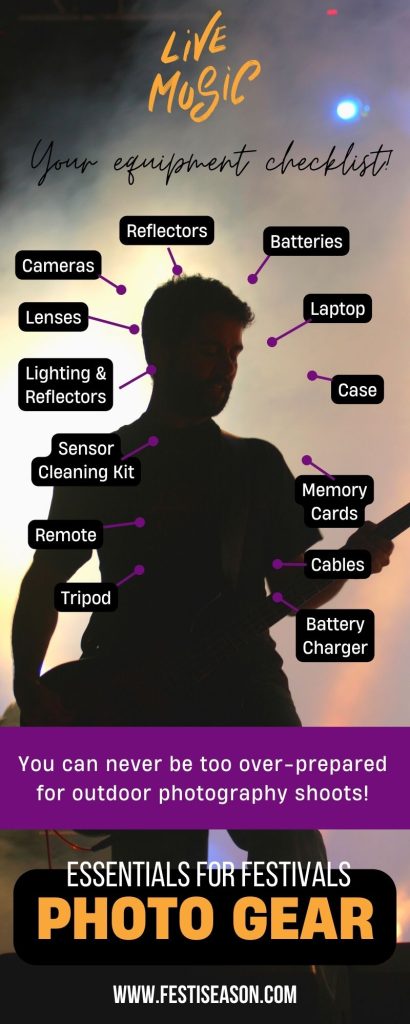 How to Become a Professional Festival Photographer
Besides having the perfect venue and having the right gear, there are some things to consider if you want to take concert photography in a more serious direction. For example, have you thought about a media pass? This pass allows you to bring your equipment inside, otherwise your professional equipment will be taken from you at the entrance. It is important to know that not all festivals will allow photographers with professional gear. Some will turn you away at the entrance. Often only cameras with a lens smaller than 6 inches are allowed inside without a media pass. 
In addition, have you thought about how to get new assignments? It is important to build good connections and learn how to network. It's also smart to do some visual research in advance on all the visual things that are going to come by during a show: lights, pyrotechnics, confetti, and so on. The behavior of the type of audience is also good to find out. Will there be moshpits and circle pits? Are there going to be crowdsurfers? Also, it never hurts to delve into the band's history. 
Conclusion
Photographing at festivals is incredibly fun, but requires some preparation. As a beginner photographer, music festival photography can feel a bit daunting. But if you plan ahead enough, prepare, bring the right gear and enjoy the atmosphere you will be fine! We hope the tips in this blog will get you started on your way to shooting the best pictures at your next festival or concert.