Do you have a festival coming up soon? Get ready for the time of your life. It's smart to bring a 'daypack', or if you're going to a multi-day festival, a larger backpack to easily carry things. You don't want to be lugging around big suitcases, big shoppers or large travel bags. This is not comfortable at all, as you will probably have to walk through a (muddy) meadow for a large part of it. Read further to find out what the best festival bags, backpacks and fanny packs are and how to pack your daypack or backpack for your next festival.
On this page:
How to choose the right festival backpack?
Choosing the right bag for a concert or festival is not always easy. First, it's important to consider what your goal is. For example, if you're only going for one day, then a rucksack for your essentials is probably all you need. Or are you going for several days and do you want to transport your sleeping gear easily? What kind of bag do you bring to the festival site if you don't want to carry too much?
Festival rucksacks for one day concerts or festivals
When I go away to a festival for one day, I normally opt for a small rucksack. You only need to take a few things with you in your festival daypack, like sunscreen, a poncho, your wallet, sunglasses, a hat and a vest for the evening. This will fit easily in a rucksack. Check the weather forecast ahead of time, that way you know where you stand with packing items. Is it going to be a rainy and muddy festival? Then it may be wise to buy a water resistant backpack. I always take a soft backpack with me, so that it squashes down in the busy crowd. Also, I don't recommend choosing a bag with tight drawstrings, they will end up hurting your shoulders.

Eastpack or Northface rucksack
The backpack I normally choose is a standard Eastpak or The North Face rucksack. These types of rucksacks are ideal if you want to use them outside of the festival, for traveling for example. What I like about The North Face rucksack is that it is black and rain repellent. With its black color, you won't see the stains. Moreover, there are handy binders on the front, where you can attach an extra vest, for example.
Tip: never put valuable items in the front pocket. This is the fastest way to get stuff stolen without realizing it.
Festival backpacks for multi-day festivals and camping
If you are going to a multi-day festival, a backpack is the perfect choice. But how do you choose the right backpack size? The size of the backpack you need depends, among other things, on the length of the festival. It also depends on how much weight and bulk you want to carry. I always bring more stuff to a festival than my friend or brother (women's things..), so I need a slightly larger model backpack, while a compact backpack will do just fine for them.
Tip: choose a backpack with side pockets so you can grab your essentials (like a torch, or bottle of water) easily when you're in the tent. 
What capacity should my festival backpack be?
You don't want your backpack to be too small, but too big is definitely not convenient either. You shouldn't take more than you need, as this will only add to your luggage which you need to carry. Normally a 45L size backpack is enough to carry a sleeping bag, airbed (or sleeping pad), tent and extra clothes for a 2-3 days festival weekend. 
For 3+ days I recommend taking a 55L – 75L size backpack. You'll need to bring just a little bit more clothes, food and drinks with an extra festival day. 75L is really the maximum here, believe me, you really don't need more than that. If you have to queue for hours you don't want your back to hurt before the party can even start. Besides, if you have forgotten something at home, you can usually buy it at the festival site or in the festival area.
Best Festival backpacks for weekends: 55 – 75L size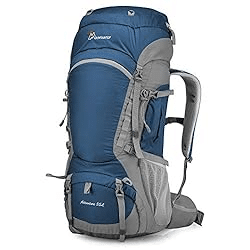 This comfortable 55L Hiking Backpack comes in as many as eight different colors. The bag is suitable for both men and women. Its capacity is 55 liters.
This 60L Hiking Backpack with neutral colors is suitable for both women and men. Its volume is 60 liters. It has a strong back frame support.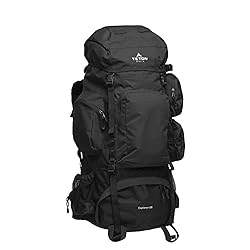 This 75L Hiking Backpack features all sorts of extra pockets so you can store your gear even more finely. The bag is water-repellant and comes in no less than 9 different colors.
Tip: make sure that your loaded backpack doesn't weigh more than 20 percent of your own body weight. Try to bring as light gear as possible, use a packing-list to get started and adapt them if you need to.
Fanny packs for festivals (festival bum bags)
I really love fanny packs (also known as bum bags). A fanny pack is easy if you don't want to carry too much. A mobile phone, hand sanitiser, your wallet and sunglasses fit into a fanny pack with ease. It also motivates you not to bring all unnecessary stuff. Are you someone who prefers to take a little more with you to the festival grounds? Like something to sit on? Then a fanny pack is not for you.
Personally, I prefer it when the fanny pack has two zippered compartments. One larger pocket (for your mobile etc) and one smaller pocket where you can quickly get your debit card or cash out. Fanny packs are totally hot these days, wear them on your waist and steal the shine!
Don't forget about the festival hydration pack
If it gets very sunny and hot during the festival, it is important to hydrate properly. It can be quite a hassle to have to stand in line for water points or for the bar every time. A Festival Hydration Pack offers a suitable solution. A hydration pack or drink bag is a hydration system which is built inside of the backpack. The hydration system consists of a plastic or rubber 'bladder' that can be filled with any liquid. The bladder had a small cap on to make refilling easy. There is also a hose attached to it to consume the water, or whatever you are planning to drink. Hydration backpacks, by the way, are also great for running and hiking.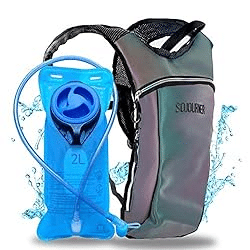 This Festival Hydration Pack is water resistant and holds 2 Liters. The pack is lightweight and available in nine different fun colors and prints.
This Sportive Hydration Pack is not only suitable for festivals, but also for sports. The pack has room for 3L. This pack has 2 front pockets and 1 main pocket, plenty of space!
This Trendy Hydration Pack also has room for 2 liters. The pack keeps your drink cool up to 5 hours. Don't worry, there are 11 other beautiful colors available besides pink. 😉
How to pack your backpack?
As we mentioned before, a backpack that's too heavy ruins the fun out of a trip. The way you pack your backpack is also important; you don't want certain items to be squished. Below we have worked out in an illustration the best way to pack, based on heaviness of items.
Medium weight on top: use the top compartment for medium weight items you use often. For example, your phone charger and power banks. If I have to stand in line to enter the festival's campground on the very first day, I put my ticket and phone in there too.
Heaviest items close to your back: when you pack the heavy items close to your back and between the shoulder blades, your hips will take the weight instead of your back. Don't forget to secure the straps around your waist properly, otherwise you'll still be carrying the weight on your back.
Light items in the middle front: this is where I always keep my clothes, towels and other toilet articles. Buy microfiber travel towels to save more space. These towels are thin and light, plus they dry incredibly quickly.
Lightest items on bottom: in the bottom compartmey be slightly squashed. If you have limited space, you can also store just the pillow in it and tie the sleeping bag to your backpack with the strings. There are also inflatable pillows, they hardly take up any space.
How to pack clothes in a backpack 
If you ever went on vacation, you've probably heard this tip before: rolling up your clothes and towels. By rolling up your clothes, they take up a lot less space. Make it easier on yourself by having sets of clothes ready to go beforehand. It is not very convenient if you have to fiddle around in your backpack in your tent, choosing which pants to wear with which top or t-shirt. 
Tip: using Packing Cubes keeps your backpack organized. Packing cubes can pack your clothes more compactly. Do you know what this means? You can take more clothes with you! Or other luggage of course. They are shaped as handy blocks, making it easier to stack them. As a result, every cm of capacity is put to good use.
How to pack a sleeping bag in a backpack 
The best place to keep your sleeping bag in your backpack is in the bottom compartment. What comes out last, goes in first! You can fill the rest of the space with a pillow or your sleeping pad, for example. If you lack space, you can also use the strings to attach the sleeping bag to your backpack.
How to pack a tent in backpack 
But note that this can only be done for tents that can be rolled up and stored in a compact way. Do you have a pop-up tent? Then obviously it won't fit in your backpack, because of its large round shape. Perhaps you can tie it conveniently to your backpack. If you decide to tie your tent to the front, make sure you have a waterproof bag around it.
Cleaning your festival backpack afterwards
The best way to clean a backpack is simply with a little warm / lukewarm water containing a mild soap, such as hand soap. Next, grab a soft brush, washcloth or sponge. Wet that and then try to clean your bag. It is usually not recommended to throw a backpack in the washing machine (or dryer). Wash it by hand and hang it somewhere to dry. If you do put the backpack in the washing machine, it might become less waterproof or the color might fade. Not only will your backpack get damaged faster, but you will also lose your warranty. Some backpacks have iron bars, remove these before washing.
Tip: often the website of the brand of backpack you bought will tell you the best way to wash your type of backpack.
Choose the right backpack
I hope this guide helps you find the right backpack, rucksack or fanny pack. Choosing the right festival bag can be quite difficult, but getting the right bag makes your overall experience much more comfortable.