Last weekend, I got to enjoy another great edition of the Graspop Metal Meeting festival in Dessel, Belgium. In this review, I elaborate on how I experienced the mighty metal festival, from the camping and lineup to the food options and facilities. Wondering if Graspop is a festival for you? Or are you curious about how things are arranged at this festival? Then read on quickly!
On this page:
Arrival and campsite
Maybe it's because I'm becoming more experienced, or because the festival was even better arranged this time, or maybe both, but I've never had such a smooth trip and arrival as I did this year. We were quite on time leaving by car, three hours before the campsite was supposed to open. For the first time, we had no traffic jams and were able to leave the car in the parking lot fast. As it turned out, the campsite had opened earlier, lucky for us, but perhaps a bummer for the "latecomers". 
The thing I always look up to the most at festivals is lugging the gear. And Graspop doesn't always make this easy either. From the parking lot on the meadow, you have to take a sandy path to the campsite. A lot of dust comes up here and if you have a trolley with small wheels, you won't make good progress. However, they did provide plenty of trash cans along the roads, there is shade thanks to the trees and if you arrive in the evening there are lights hanging all over the route. 
Fortunately, I was prepared for this with my large backpack and trolley with big wheels. I had also packed everything tightly sealed, so the dust didn't get in between everything. I recommend wearing high socks and sunglasses so that the sand doesn't get into your shoes from day 1 and your eyes don't feel dry while lugging. The last stretch before the campsite is paved road though. 🙃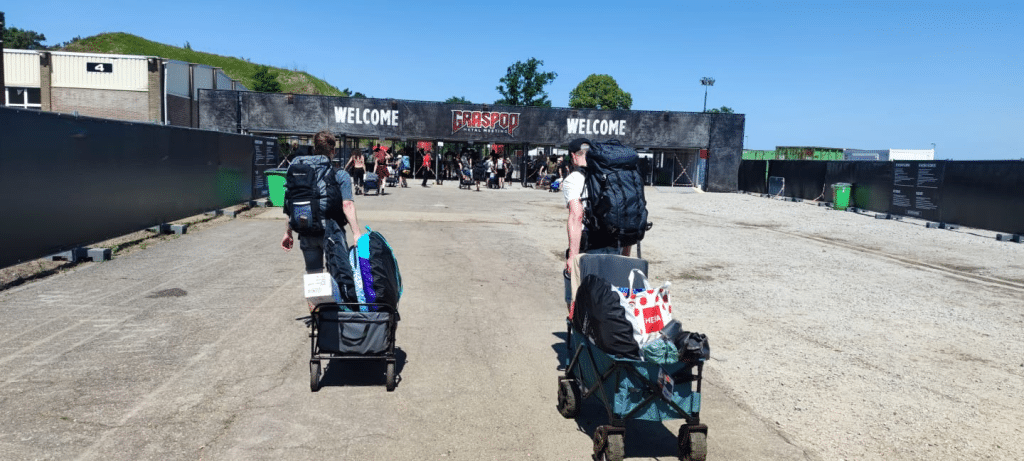 The Graspop Campsite: Boneyard
The Graspop campsite is called "Camping Boneyard", which is located right next to the festival grounds. The campsite is free to any festival-goer with a valid festival band. In recent years, the campsite and festival grounds have switched places. This is ideal because you walk a shorter distance to the festival site, and the distance to the parking lot is also shorter (less lugging!).
As I indicated earlier, the campground was opened earlier than stated on the festival website. This might have been a problem for latecomers. However, it seemed like the campsite was a lot bigger this year. In previous years there was always a "backup campsite", but then you had to walk quite a bit to the festival site. Now everything was nice and close for everyone.
I have always found camping at Graspop to be incredibly positive. There are several bathhouses available with neat showers (showering costs 1 token / "skully") that are regularly cleaned. You'll also find toilets and sinks. 
Tip: If you need to go to the restroom, go extra early because the lines usually start getting long after 8:30 - 9:00! Fortunately, this does often skyrocket and the queue looks worse than it is. As for showers, there are long lines here too, except for the women's showers (simply because there are significantly more men at the festival).
Good to know is that you may bring your own food and drinks to the campground. Considering the food and drinks at the festival site are very expensive, I definitely recommend bringing a food supply. Luckily, there are plenty of ways to keep your drinks cool. Please note that glass is not allowed, only cans and plastic.
The only downside for me personally that I can mention was that we had gone to the car for a second time to pick up the last items (food, drinks), but then we had to join the line all over again. More convenient would be if you get a festival wristband immediately when going in the 1st time, so that you can pass the line.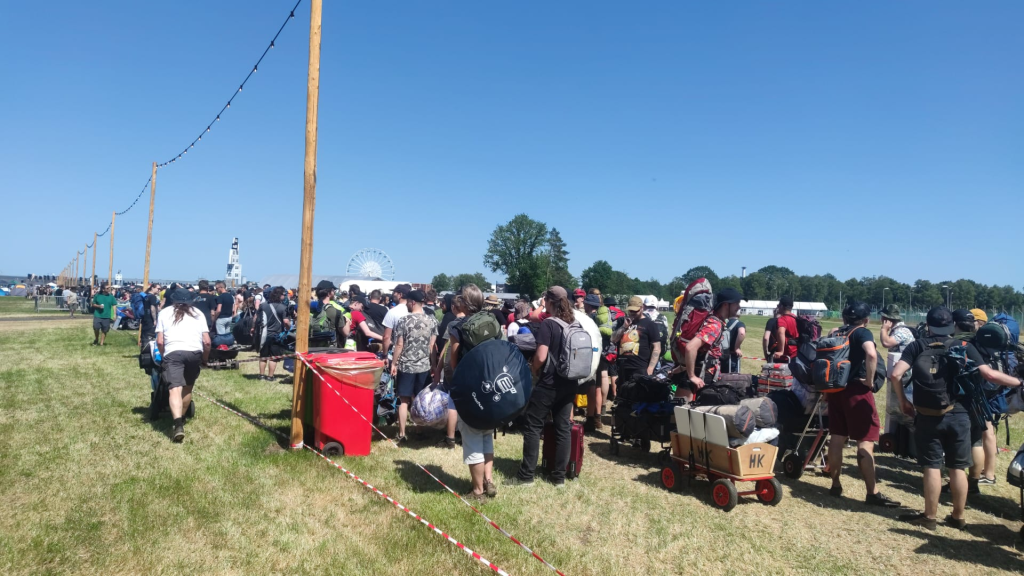 Also interesting for you: How to Find the Best Festival Camping Spot [12 Tips]
The Lineup
By now I have been to this festival 6 times, the first time when I was 16 years old. But I must say, again this year Graspop managed to put together a fantastic lineup. I wasn't a big fan of the "older headliners," like Guns 'N Roses and Def Leppard, but the program was otherwise great. This year there seemed to be more room for metalcore, which is a nice development. 
The cool thing about Graspop is that they take all metal fans into account. You will see metal genres of every kind passing by on the 5 different stages. From hard rock, to death metal, to glam metal, to metalcore. Everything is there. That's not surprising by the way, with more than 130 bands! In addition, I liked that on Sunday they had created a kind of "punk day" on the Jupiler Stage, with performances by Anti-Flag, Enter Shikari and Billy Talent.
My personal highlights were the performances by Parkway Drive, Architects, Ghost and Spiritbox. One thing that I particularly liked as a pleasant surprise was that Winston from Parkway Drive came on stage during Architects' performance to sing a song with them.
Tip: If you download the Graspop app, you can select all your favorite acts yourself so you don't have to manually create a personalized timetable. The app gives you notifications when one of your favorite acts is about to start and where to go. It also shows you a site map and other handy functions.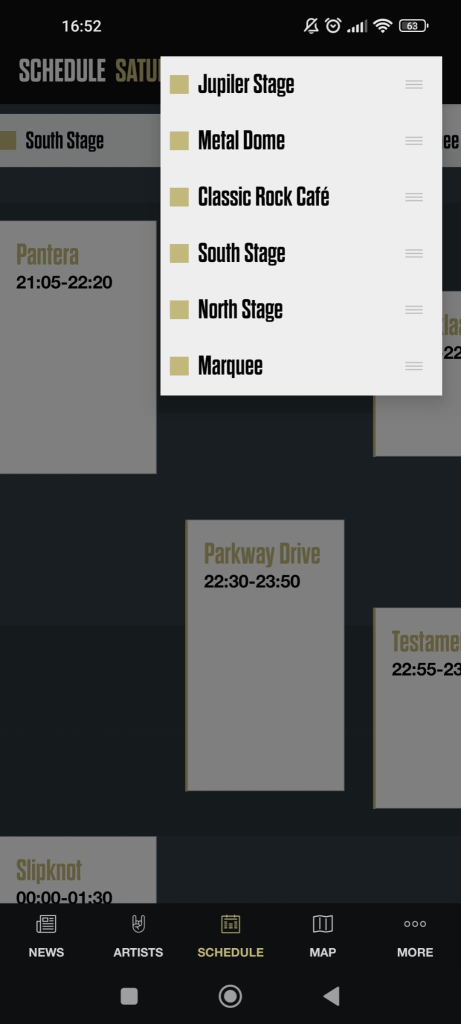 Stage productions
What adds extra value to the shows are the stage productions. The stages are provided with cool and good looking visuals, props, plenty of pyros (as befits rock and metal shows) and there is plenty of room for the performers to go wild on stage.
Afterparty at Graspop
If you think the party stops after the headliner, then you are wrong. Every night, Graspop provides a great after party! In the Metal Dome you can catch the best cover bands in the world, or head to the Classic Rock Café where a DJ spins the best hard rock and metal hits. Bizkit Park in particular was amazing and exceeded all my expectations. The show was cool and the covers of various nu-metal bands were simply amazing.
Crowd experience and atmosphere
In my opinion, Graspop has one of the best crowds on the planet. Everyone is friendly to each other, joins in enthusiastically with the bands and generally everyone has a healthy dose of humor. Both on the festival grounds and in the campsite, people are helpful to each other. Planning to go to a festival alone? At Graspop you don't have to worry about feeling alone, I'm sure you'll make a lot of new friends in no time!
Also nice: there is plenty of room for the audience to walk from one stage to another. There are also sufficient large screens hanging so you can get a good view of the performance even from a far distance.
Shoutout to volunteers
I also want to take a moment to remember all the hard work of the volunteers at Graspop. You will never fall to the ground after crowdsurfing to the stage thanks to the skilled security. On the festival site you will always find plenty of staff members who can answer your questions.
Facilities & Food
The choice is vast in terms of food and drink offerings. From curries, to seafood, to belgian waffles to spring rolls, there's a lot. Even if you are vegetarian or vegan, you still have plenty of selections to choose from (Wok 'n Roll, Karma Kebab, Greenway to name a few).
Unfortunately, the festival gets more expensive every year, and this year the food was ridiculously expensive. This is not something you should think too much about though. You have been saving up for this, so enjoy the festival to the fullest. If you're really tight on money, you can choose to cook meals at the campsite.
Tip: Not in the mood for a snack or fries for 4 days long, but want something different? Then head to the food trucks on the Jupiler Stage side of the festival grounds. Here you have many more options than at the mainstages.
Paying for food & drinks: the cashless system
As of this year, there was a new system that completely replaced the old tokens/coins. Graspop was all about cashless payment this year. In fact, you got a chip attached to your wristband that you could top up via the app on your mobile, or via the charging stations on the grounds.
Cashless payments got off to a difficult start, because many people's chips did not work properly or tokens were upgraded on the wrong wristbands. My neighbor at the campground even told me that he stood in line for 1.5 hours at the campground help desk because his wristband refused him access to the festival grounds.
Personally, I don't necessarily like this system because I have little sense of how many "tokens" I have left, how much I'm spending, and because it gets more complicated when people want to give out rounds of beer with groups of friends. Fortunately, there was a solution to the latter problem – the cashless card. On this card you could collectively upgrade tokens.
Perhaps if next year everything works well at once, I will be more optimistic about it. I am glad that you get the remaining tokens refunded to your bank account, this is an advantage over physical tokens that are no longer of any use.
Toilets
As for the toilets, there should be a lot more of them! There are always long lines, especially on the festival grounds. Also at the campsite the number of sanitary blocks was limited, so a large part of the camping guests ended up at the "middle block". If you desperately need to go to the bathroom, waiting 30 minutes is really too long. If you take this into account and just leave on time, it's not too bad in the end. The lines generally, if you don't pick an unfavorable time, shoot up quite well.
Tip: try going to the bathroom during an act rather than when the act has just ended and everyone goes at once. This can create a time difference of up to 20 minutes.
Conclusion and Overall Impression
Graspop remains one of the best (metal) festivals on earth. If you like metal music and tons of fun, you must have been here at some point. It's a little less massive than Wacken Open Air (Germany) or Hellfest (France), making it easy to move around the campsite and festival grounds. The lineups are quite diverse each year so there is an array of choices for everyone.
Did you go to Graspop this year? What were your favorite acts? Share it in the comments below! 🤩