Nice outfit check, jewelry check, good mood check, but what about your festival makeup look? If you really want to stand out during your next festival, it's time to get creative with your makeup! One of the most popular and playful elements of music festival makeup is glitter. Whether you're going for a subtle sparkle or a full-on glitter explosion, this versatile cosmetic can take your look to the next level. In this blog, we'll dive into the world of festival makeup, covering everything from the glitter festival looks or bright neon makeup.
On this page:
What Type of Glitter Festival Makeup Should I Get?
Glitter makeup is all about adding some sparkle and shine to your face, and it's a great way to make a statement at a festival. Glitter can be added to any part of your face, from your eyes to your cheekbones, to your lips, and even your hair. The key to successful glitter festival makeup is choosing the right type of glitter and look you want to achieve. 
There are two main types of glitter: cosmetic glitter and craft glitter. Cosmetic glitter is specifically designed for use on the skin and is made with non-toxic, skin-safe ingredients. It's also finer and smoother than craft glitter, making it easier to apply and less likely to cause irritation. Craft glitter, on the other hand, is rougher and may contain ingredients that are not safe for use on the skin.
Simple Glitter Festival Makeup Looks
When it comes to glitter festival makeup looks, there are an awful lot of variations. Here are a few of the most popular festival makeup looks you can create with glitter:
Glitter Cut Crease
This look involves applying glitter to the crease of your eye to create a defined, glitter-filled crease. You can use a neutral eyeshadow color as the base, then apply glitter glue to the crease and pat the glitter onto the glue with your finger or a brush.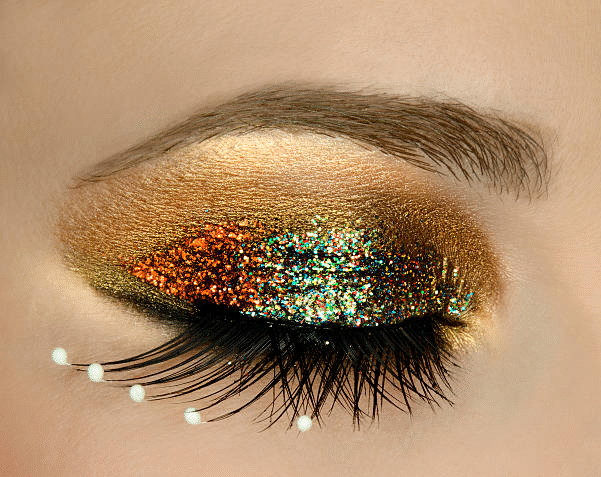 Image credit: stock_colors
Face Gems Jewels
Adding face gems or jewels to your festival look is a fun and unique way to enhance your style even more. The face stickers come in various shapes, sizes, and colors. You can place them anywhere on the face and are easy to apply or remove. Finding it hard to come up with a design? Fortunately, there are plenty of ready-made face gem designs available. With face gems, you can let your imagination run wild and create a one-of-a-kind festival makeup look that will turn heads and make you feel fabulous!
Glitter Beards
Glitter beards have become a popular trend at festivals, as a way for men to add some sparkle and playfulness to their look. To create a glitter beard, simply apply glitter glue or beard oil to your beard, then sprinkle glitter onto the glue. You can use a brush or your finger to help distribute the glitter evenly. The result is a glitter-filled beard that's sure to turn heads. Glitter beards are a fun and unique way for men to get in on the festival makeup fun, and they're a great conversation starter. Whether you opt for a subtle touch of glitter or a full-on glitter beard, this look is sure to add some extra sparkle to your festival experience.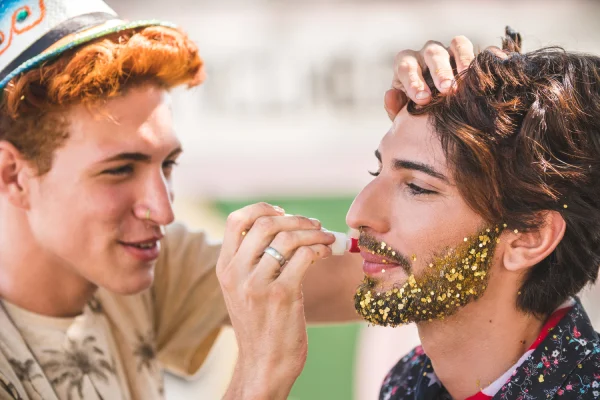 Glitter Eyeliner
This festival makeup look is all about adding some sparkle to your eyeline game. You can create a glitter liner look by applying a liquid liner as usual, then adding glitter on top with a brush or your finger. This look is great for those festivalgoers who just want a subtle touch of glitter. In that case, only use the glitter eyeliner and finish off with more neutral makeup for your lips and cheeks.
Glitter Lips
For those who want to take their glitter festival makeup really to the next level, glitter lipsticks are a must-try. You can also create this look by first applying a base lip color, then using a brush or your finger to apply the glitter to your lips. Extra tip: use a lip gloss underneath for an even easier application, lip gloss is normally more sticky then lipsticks too, so ideal to stick your glitter to your lips with.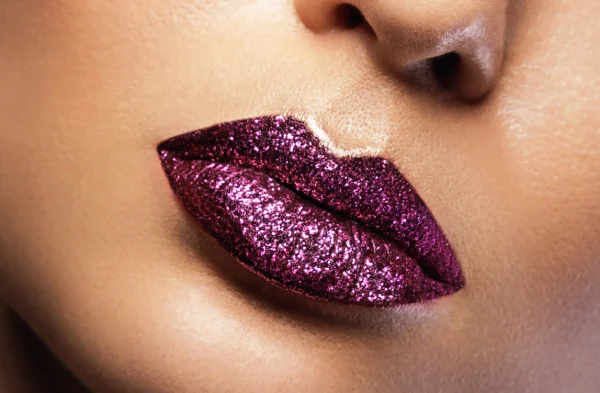 Glitter on Face
Wearing glitter on your cheekbones as a festival look is a bold and playful statement. It adds a touch of sparkle and glamour to your overall festival look and makes you stand out from the crowd. Wearing the glitter on the cheekbones can enhance the shape of your face and create a youthful, playful vibe. You can also combine the jewel gems stickers and face glitter makeup like in the picture below.
Image credit: Sophie Hannah Richardson
Glitter Roots
Who says you should use glitter only on your face? Adding some glitter to your hair creates just a little extra sparkle. Apply a bit of glitter glue to your roots, then press the glitter into the glue with your finger or a brush. Too much effort? There are also hair glitter sprays available on the market.
Festival Neon Makeup Looks
Neon makeup is all about creating an electrifying effect with bright and vivid colors. Often the colors, pink, yellow, blue and green are used. When it comes to festival neon makeup, the brighter the better!
Neon eyeshadow, lipstick, and highlighter are some of the most popular neon products, but you can also experiment with neon eyeliner, blush, and even body paint.
In short, the possibilities for neon makeup are endless. Below we highlight some popular neon makeup looks. Take a look!
Image credit: @tashjanecollins/Instagram
Neon EyeShadow
Using bright neon colors as eyeshadows is THE way to complete your festival look. You can use a neutral eyeshadow color as the base, then apply neon eyeshadow to the lid and crease for a bright and bold effect. You can use different neon colors of eyeshadow combined for an even more bombastic look.
Glow in the Dark Makeup
Wearing glow in the dark makeup at a music festival can really make you stand out, during day AND night. This type of makeup uses a special formula that illuminates in low-light conditions, making it perfect for nighttime festivals. Get ready to shine bright (in the dark) at your next festival!
Neon Lipstick
Who doesn't like bright and vivid lip colors?! Especially in summer, wearing neon lipsticks is very popular. You can use a neon lipstick on its own, or pair it with a neutral eye look for a bold statement. Extra tip: match your nails with your lipstick and eyeshadow.
Neon Highlighter
This look involves using neon highlighter to create a bright and glowing complexion. Be careful not to use too much of it, after all, you don't want to look like a shiny clown.. You can use a neon highlighter on your cheekbones and nose for an extra pop of color.
Neon Body Paint
If you're going for a bold and bright look, then consider using neon body paint. You can use neon body paint on your arms, legs, and even your face for a head-to-toe neon look. Make sure you wear clothes that are allowed to get dirty, because it can get real messy.
How To Apply Festival Makeup?
When it comes to applying your glitter festival makeup, there are a few things to keep in mind. It is important to start with a clean, moisturized face, free of any makeup or oils that could prevent the glitter from sticking. The same goes out when you apply your neon makeup.
After that, you need to decide where you want to place your glitter, jewels or neon makeup. If you're adding glitter to your eyes, you'll want to start by applying your eyeshadow and eyeliner as usual. You can then use a glitter primer or glue to help the glitter stick. To apply the glitter, you can use either your finger, a brush, or a sponge, depending on the look you want to achieve. Follow these steps to apply your festival makeup:
Prep your skin: Clean and moisturize your skin thoroughly before you apply any makeup.
Use a primer: A primer keeps your glitter in place and prevent it from falling off. It also protects your skin from clogged pores.
Apply with a brush: If you want to apply the glitter very accurately, I recommend using a good brush instead of your finger. This way you can control the amount better and ensure an even distribution.
Use a fixation spray: The secret behind a makeup look that stays on all day is a fixation spray.
Don't overdo it: Less is often more when it comes to glitter. Stick to a small, focal area of your face to make a statement, rather than covering your entire face in glitter.
Check out this awesome Festival Makeup Tutorial by Katie Michaelis!
Removing Festival Makeup After a Day of Partying
No matter which festival makeup look you choose, there are a few important tips to keep in mind. Firstly, be sure to remove your makeup before you go to bed, as some makeup products may cause skin irritation if left on overnight. Secondly, be sure to use a good quality makeup remover to remove all traces of makeup, as it can be difficult to remove with just soap and water. In short, follow these steps after a day of wearing festival makeup:
Remove your makeup properly: You don't want your pores to get clogged, so use an oil-based makeup remover to gently remove makeup and avoid any irritation.
Cleanse your skin: Cleanse your skin thoroughly to remove any remaining makeup and impurities.
Hydrate your skin: Put a small tub of night cream on your festival packing list. Festival days can be long and draining, so it's important to hydrate your skin to keep it looking refreshed and healthy.
Don't forget to remove glitter from your hair: Glitter can easily get stuck in your hair, so be sure to remove it properly to avoid any hairdamage. Besides, you dont want a messy pillow for the other nights.
Take a break from makeup: Once the festival is over, you would do well to avoid wearing makeup for a few days. Let your skin breathe for a day or two after the festival to avoid any irritation or breakouts.
Sleep well: A good night's sleep is not only healthy, it is also really important for skin recovery after a long day of wearing makeup.
Conclusion
Festival makeup is a great way to express your individuality and add some sparkle to your look. Whether you prefer a subtle touch of glitter or you want to go all out with neon colors, it's important to keep a few tips in mind for a flawless application. From prepping your skin to removing your makeup properly, taking the time to get it right will ensure you feel beautiful all day long. So, grab that glitter or neon eyeshadow and let your creativity shine at your next festival!
Disclaimer: Some of the links used in this blog are affiliate links which means that I get a small fee if you choose to buy something – this comes at no extra cost to you and allows the site to continue to exist. All the opinions on this page are my own. Thank you for visiting and supporting FestiSeason!