Is rain predicted at the festival you are attending? Then chances are you will end up in a big mud puddle! Fortunately, there are a lot of ways you can prepare for a rainy and muddy festival, so you don't have to let this spoil the fun. Since I come from a place where rain is no more than usual, I am happy to help you prepare. Below are the 10 best tips that will help you survive a muddy festival.
10 Ways To Survive a Wet Festival
1. Waterproof camping set up
If you know it's going to rain, it's important to bring a waterproof tent and make your campsite waterproof as well, so your sleeping area and belongings stay dry. First, it is important to fix a good festival camping spot. Make sure your tent is not next to walkways or at the end of a hill to avoid mud. 
In addition, it is a wise idea to bring a large ground sheet that you put under the tent. This keeps the wetness and moisture from the ground from entering the tent through the bottom. Should you have the place for it, then I would extend your tent with a front house too. Bringing this along gives you a lot of extra space to store your muddy and dirty stuff.
Some other campsite tips in case of bad weather:
Bring extra tent stakes to secure your tent (prevent it from coming loose and blowing away)
Use overhead tarps (pavilion) or rain flies
Place your bags, air bed and clothes in the middle of the tent, because rain accumulates near the edges.
Apply waterproof fabric spray to your tent before the festival starts
2. Bring plastic bags or bin bags
I forgot to bring this once and then never again! At a multi-day festival, you don't want your dirty sweaty wet clothes to get in between your clean clothes. Everything will stink! Therefore, bring a roll of bags to keep your dirty clothes in so you keep them separate from your clean clothes. This will prevent the whole tent from getting smelly.
3. Waterproof jacket or rain poncho
Alright your tent is now all set, time to see what you can do on the festival grounds against the rain. Something that should not be missing from your festival packing list is a rain jacket or poncho. If you don't have a rain jacket, you can always bring a poncho, these hardly take up any space. But in heavy rain, a poncho will not protect you enough from getting wet, so I always recommend going for a rain jacket with a hood!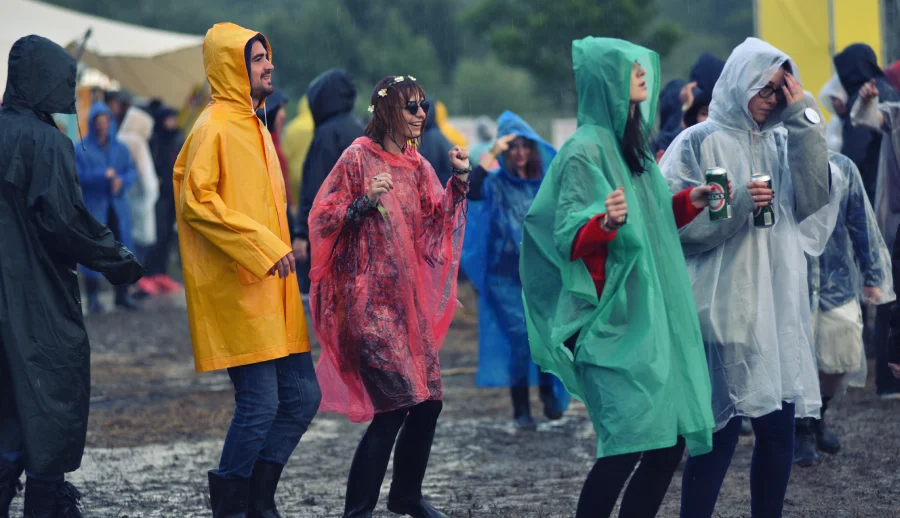 Become rainproof with these festival ponchos and raincoats
SaphiRose Hooded Poncho
Go for an eye-catching space poncho, that way you won't have to think about your outfit any further!
Disposable Rain Poncho
Or go for a cheerful eye-catching poncho in different colors. That way you and your friends can match.
Raincoat Waterproof 
This raincoat can be reused and is quite subtle. Besides being functional it looks stylish too!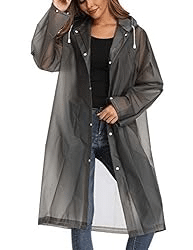 4. Pack a rainy hat 
In addition, you can bring headgear to keep your face and hair dry. For example, there are many different waterproof bucket hats (fisherman's hat) available in all kinds of different colors. You can buy these at hiking and sport stores. A good headgear is not a bad idea anyway, because if there is a day when the sun does shine brightly, you also want to protect your face from sunburn.
Nowadays there are a lot of trendy water-repellent rain hats for both men and women, but of course you can also go for a crazy look with the umbrella hat!
Get your own funny umbrella hat
6 Pack Umbrella Hat
This pack contains 6 different umbrella hats, one for all your friends or family!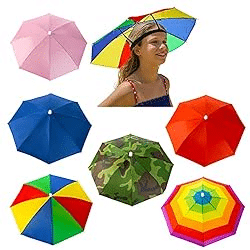 Hawaii Umbrella Hat
4 pieces of summer Hawaii umbrella hats in different styles.
Rain & Sun Hat
The ideal bucket hat that will keep you dry while being both stylish and comfortable.
Besides protection from rain, you can also use them as protection from the sun.
5. Bring zip lock bags for your phone
Don't forget to protect electronics such as your smartphone from heavy rain. Fortunately, a lot of phones these days are waterproof, but if like me you have a phone that is not waterproof, I would bring zip lock bags just to be sure. Make sure you buy your gear before going to the festival, because at the festival prices will go up. You can simply get these at the supermarket, among the sandwich bags and foils. 
6. Wear rain boots / wellies
Do you have your festival shoes ready to go? Are these waterproof? If not, bring a pair of rain boots (wellies) for the rainy days, these are definetely the best shoes for a muddy festival. By wearing rain boots you won't get mud on your socks and feet. You can also move more easily through the mud. Rain boots don't have to be boring anymore, nowadays you have rain boots with all kinds of cute prints on them!
7. Wear waterproof high socks
Talking about not getting dirty, wet socks… Soggy socks are a nightmare. Buy decent (athletic) waterproof socks that will keep the sweat and rain off. Wearing high socks will help you stay warm, have better grip and keep your feet dry. Especially if you plan to wear rain boots you should put on socks. After all, rain boots are not made of breathable material. 
Bring a large supply of socks, because there is nothing like crawling into your tent at night and putting on dry warm socks before sleeping.
8. Stay under an umbrella
This tip is not for the people who want to get up front with their favorite artist. An umbrella is great for blocking the rain, but it does block the view for other people in the audience. So be respectful to other festival goers and stand with your umbrella along the side, or slightly to the back, where you won't be in the way of others. 
Note: some festivals prohibit large umbrellas, so bring a small one just to be sure.
Under my umbrella,
ella, ella, eh, eh, eh

Rihanna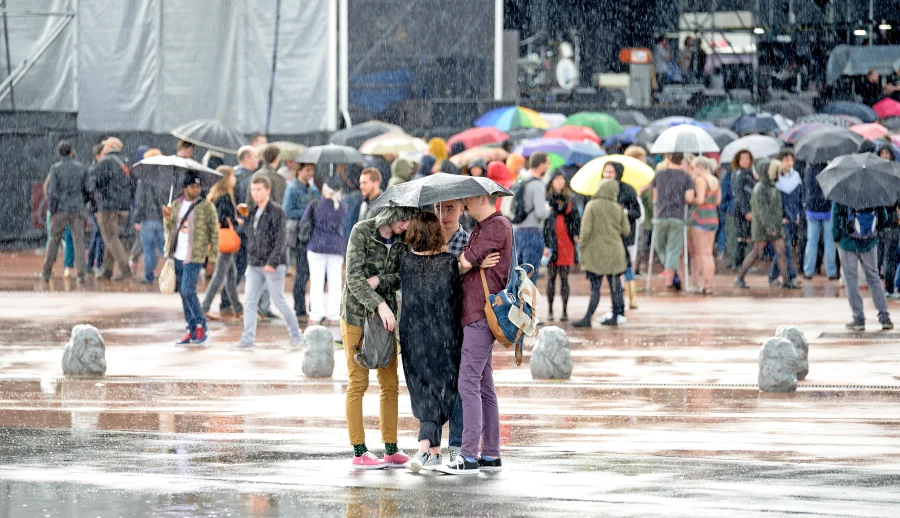 9. Bring extra towels and baby wipes
In rainy weather, you never have enough towels with you. Bring enough so you can always wash and dry yourself. I personally always bring camping towels because they are light and don't take up much space. Also handy to bring are baby wipes. With these you can clean your shoes and other items from the mud. 
Tip: bring some newspapers or grab some toilet paper to soak up excess moisture/water from your shoes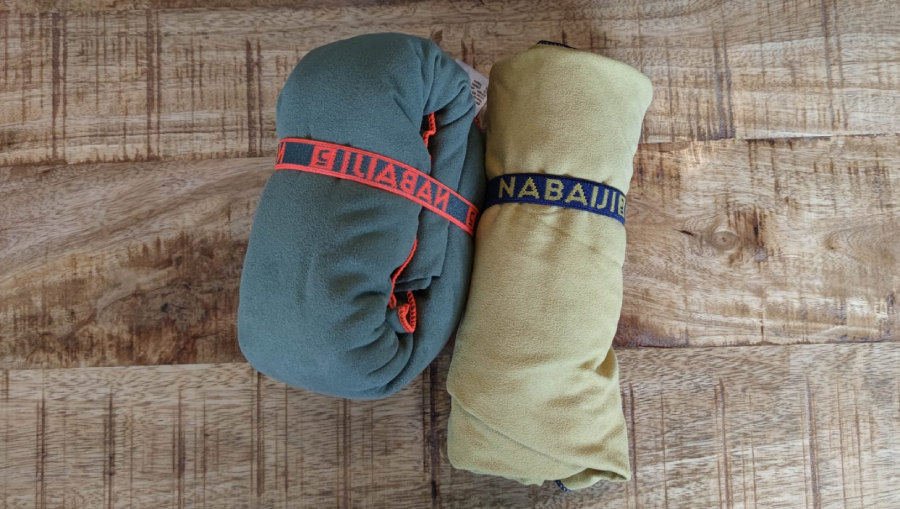 10. Make a drying line inside your tent
Did your clothes get wet anyway? Bring a twine and stretch a clothesline through your tent to hang your clothes here and let them dry. Sometimes you have to be a little creative to solve problems. Just make sure the clothes you hang are not soaked, or everything will drip all over your bed and belongings. So wring out your clothes well first if they are very wet so you can hang them up towel-dry.
What to do in case of a thunderstorm at a festival?
The most important thing is to stay calm, that way you can think better about what to do. Panicking doesn't accomplish anything anyway. Should a thunderstorm suddenly arrive, stay away from tall objects such as trees and poles. Also avoid the barriers, fences and the stage itself. Do NOT touch any metal parts, including your umbrella! 
Are there no cars or camper vans nearby and are you in an open area? Then experts recommend to look for a ditch hole in the ground, squat down in there and keep your feet tucked in. Stay as low to the ground as possible. Tents are not a safe place during a thunderstorm, however, if you do not have a lot of options and you're forced to stay in there, crouch down and do not touch any metal tent poles or tent walls. Again, stay low to the ground and make sure you sit on a dry and insulating surface (for example, an air mattress). 
Note: during thunderstorms at festivals, normally the staff will announce what to do and give important instructions. Pay attention to these announcements and go to the emergency assembly point mentioned. 
Don't forget to have fun!
We hope the rainy festival you go to will still be great with these tips! It is important to be well prepared for rain and mud, so take your time to include all packing essentials for rain. In addition, leave on time so you don't get your car stuck in the mud trails of other festival-goers. And finally, don't forget to have lots of fun! Don't let that little bit of rain keep you from having a great time.
Do you have any handy tips for rainy and muddy festivals? Share your tips in the comments!
Graspop 2013: a muddy, but fun year for sure!