Are you going to a festival for the first time? Or are you a seasoned festival-goer, but do you need a little help getting your festival packing list together? Don't worry, after many years of partying and camping I know exactly what to bring to a festival and what not to bring. I'm happy to share my experiences with you.
On this page:
What to take to a day festival? This is your day bag
For starters, we recommend that you always bring a zippered bag to a festival. Don't make it easy for pickpockets. Choose a festival backpack that isn't too big or too small, because you'll be lugging your stuff around all day. If you are into festivals, but not so much into camping, then this feature is for you. So what are we going to pack in this one day festival bag? We made you a list.
Festivalticket: nowadays you no longer have to print your tickets for most festivals, but you can have the code of your e-ticket scanned via your mobile. Check this before you go. Pre download a pdf format of the ticket on your phone in case you won't have a steady internet connection. Be aware to buy your festival ticket at a reliable website.
ID card / passport: sometimes it is only possible to enter a festival with a ticket that is linked to the name of the buyer. This is checked via your identity card or passport. They may also ask for your ID card at the bar.
Wallet with cash: nothing is more annoying than having to stand in line for a long time at the ATM, missing your favorite acts. Bring some extra cash so you can buy food, drinks or merchandise right away.
Sunscreen: you burn faster than you might think. Especially if you spend a lot of time at the mainstage instead of in a tent. Apply sunscreen regularly (preferably SPF 30 or higher).
(optional) Hat: you can of course also choose to wear a cap or hat for extra protection against the sun.
Sunglasses: you want to see the band that you are listening to, right? Sunglasses are especially important when you have prescription specs. Also, if you don't wear sunglasses, you may start squinting, which probably ends in a minor headache.
Powerbank: the heat in the summer and taking videos + photos can drain your mobile's battery faster. Take a portable power bank with you so you can charge your mobile throughout the day. Otherwise, you won't have awesome pictures, social media stories and no way of contacting your friends in case you get lost. Some festivals offer 'charging lockers' or other charging places for your equipment.
Earplugs: protect your ears to prevent hearing damage or ringing in your ears. Nowadays there are a lot of music earplugs on the market. They come in all colors, shapes and sizes, so there is always a pair for your ears too. If you want to be sure about the size, you can always have them custom made.

Keep in mind that custom made earplugs will be more expensive. This is logical, since a specialist makes an earmold of your ears and crafts to your specifications and needs (which is more time consuming than mass production). 
Water bottle: probably the most important thing during a festival is to stay hydrated. It is wise to bring a bottle of water into the festival arena. Check in advance whether it is allowed to bring your own bottle. If not, we recommend buying a bottle of water immediately upon arrival. There will be plenty of water stations throughout the festival area to refill your bottle.

Extra tip: Hydration packs are a great way to stay hydrated during a festival.
Rain poncho: I hope you don't have any rainy or muddy festival, but you can never trust the weather forecast a hundred percent. So bring a rainjacket or poncho just to be sure.
Hand sanitizer: you unconsciously touch a lot of (dirty) things during a festival. There aren't places to wash your hands with soap everywhere, so keep that sanitizer close by to stay clean at festivals.
Paper tissues: it wouldn't be the first time that after standing in line for a long time, you can finally go to the toilet, only to find out that there is no toilet paper left. That's why it is always handy to bring some emergency tissues.
In addition, it is nice if you wear comfortable shoes, because you will be standing and jumping a lot. Do you like going into the mosh pits? Then (hiking) boots are very suitable. Do you really wanna go crazy? Try a fun costume!
Your festival camping equipment
As music festivals are the highlight of summer for any music fan, the-lead up to the festival is almost as exciting as the trip itself. But don't get detracted from proper planning for your camping gear. If your camping gear is only half complete, it will certainly affect your sleep and well-being, trust me. 
I remember my first camping experience at a festival, where my best friend and I ended up missing our 2 persons air mattress and one sleeping bag. It probably fell off our folding trolley, in the hustle and bustle of lugging. We had to improvise, so we both unzipped our sleeping bags to make it a double blanket. One to use as a mattress, one to use as a blanket. It was more comfortable than expected, but I can NOT recommend this.
However, if you don't want this to happen to you, take a closer look at this packing list for festival camping.
(Waterproof) Tent: the most important thing is that you have a roof over your head when sleeping, also for that little bit of extra privacy. Keep an eye on the weather forecast in advance, if it's gonna rain, it is better to invest in a waterproof tent. 
Camping lamp / flashlight: there is not light everywhere on the campsite, certainly not at your tent. So take a good flashlight or camping lamp with you for your tent, so that you always see something. You can of course also use the flashlight of your mobile, but this will drain the battery quickly.
Folding chair: you stand, walk and jump a lot during the day. So when you get out of the tent in the morning, it is pleasant to be able to sit up properly. This is also good to avoid back problems. There are a lot of folding chairs on the market. Tip: choose one with a drink holder.
Sleeping bag (and pillow): the same applies to a sleeping bag: check the weather forecast. Does it get very cold at night? Then pay close attention to the comfort temperature of the sleeping bag when purchasing. The comfort temperature of a sleeping bag always indicates for which season it is intended. Do you want to save space? Bring an inflatable pillow instead of a normal one.
Air mattress or inflatable mat: the easiest option is to bring an inflatable mat or sleeping pad. Do you sleep with two people? Then an air mattress is better. Don't forget to bring a pump too!
Folding trolley: the road to your camping spot is usually a bit of a walk as well, so to make it a bit more comfortable you can bring a folding trolley. Most low budget trolleys can handle a weight of approximately 60 kg. Enough to carry a lot. Because the trolley is foldable, it easily fits in your car and tent.
Folding table: a (folding) table is a necessity if you want to spend time at the campsite in a decent way. You use it to put snacks on, to have breakfast, but also as a make-up table for women. Pick a folding table with a handle to make it as easy as possible to transport.
Toilet paper: because you never know for sure whether there is toilet paper available, especially later in the evening. You can also use toilet paper as a kitchen roll while eating at the campsite.
Pen and paper: this can always be handy! Maybe for playing games?
Sleeping earplugs: getting enough sleep at a festival is nearly impossible and can be a real challenge. Fortunately, there are ways you can make it easier for yourself. By buying good earplugs you can already stop a lot of noise. Still can't sleep because the neighbors are having a late after-party? Then try to take along music headphones with noise-canceling, and put on quiet music, for example nature sounds or piano.
Shade shelter / tarp (or partytent): whether it's raining, or very sunny, a shade shelter is always a good idea at a festival. If you're spending several days at the campsite, you want to be comfortable and not have to sit in the full sun or rain.
Also think about fun stuff to do at the campsite, like playing cards or soccer. Sometimes I even like to isolate myself with a book for a while to get away from the hustle and bustle. My brother always brings an instrument, like an old acoustic guitar, harmonica or ukulele. This makes hanging around at the campsite a lot more fun.
Setting up camp at a festival
We understand that you want to put up your tent immediately after dragging your stuff. However, it is important not to take the first spot available, but to choose your campsite carefully. You're going to spend the next few nights here and it won't be able to switch places easily. 
The best place for your tent is not directly next to a pathway, because that's where drunk festival-goers will trip over your tent. Make sure your spot isn't uphill or downhill, or your nights will be a lot less comfortable. It is also good to see where the toilets are, so that you do not have to walk too far in the early morning. 
Finally, secure your tent well with ropes. With strong gusts of wind, your tent will be gone in no time. It is also smart to pimp your tent so that it stands out from far away. Decorate your tent, for example, with colored flags or other striking decorations.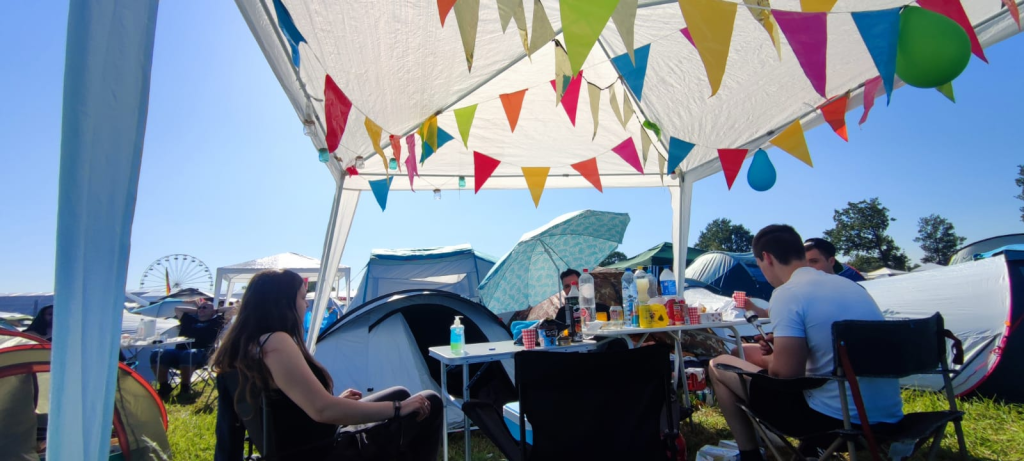 Festival food packing list 
One of the most frequently asked questions is what food to bring to a festival. Especially if you go to a multi-day festival where you spend a few nights in your tent, it is nice to start the next day with a good breakfast. Because you are not allowed to use a (disposable) barbecue or propane on most festival campsites, we have made a list of food that does not require fire, propane or electricity. Try to bring ingredients that you can mix and match, for example bread in the morning and a pasta salad in the evening.
Festival food that doesn't require fire, propane or electricity:
Bread (with peanut butter)
Pasta salad
Potato salad
Canned tuna 
Canned beans
Hard boiled eggs
Hot dogs (but cold)
Couscous
Yoghurt
Pulled pork sandwiches (pre-cooked)
Try to avoid food that can be heavy on your stomach. Some of the dishes above must be kept refrigerated, otherwise they will spoil. Like the hard-boiled eggs, don't keep them in the tent until the last day. Also, cook them as late as possible before leaving for the festival. 
Note: keep your food in a dark cooler place out of direct sunlight or heat. Bring enough cold packs to store the refrigerated food.
When at a festival, you can leave your diet at home for a few days and treat yourself well. So stock up on plenty of snacks too! It might be a good idea to avoid chocolate though, because the chances are big that the chocolate will melt or that it will turn into a sticky mess. We summed up some snacks to keep your protein levels up for partying into the early hours.
Snacks:
Chips
Popcorn
Biscuits / cookies
Muffins
Fruit: bananas, apples
(Rice) Crackers
(Babybell) Cheese
Sausage rolls
Granola
Energy or protein bars
Beef jerky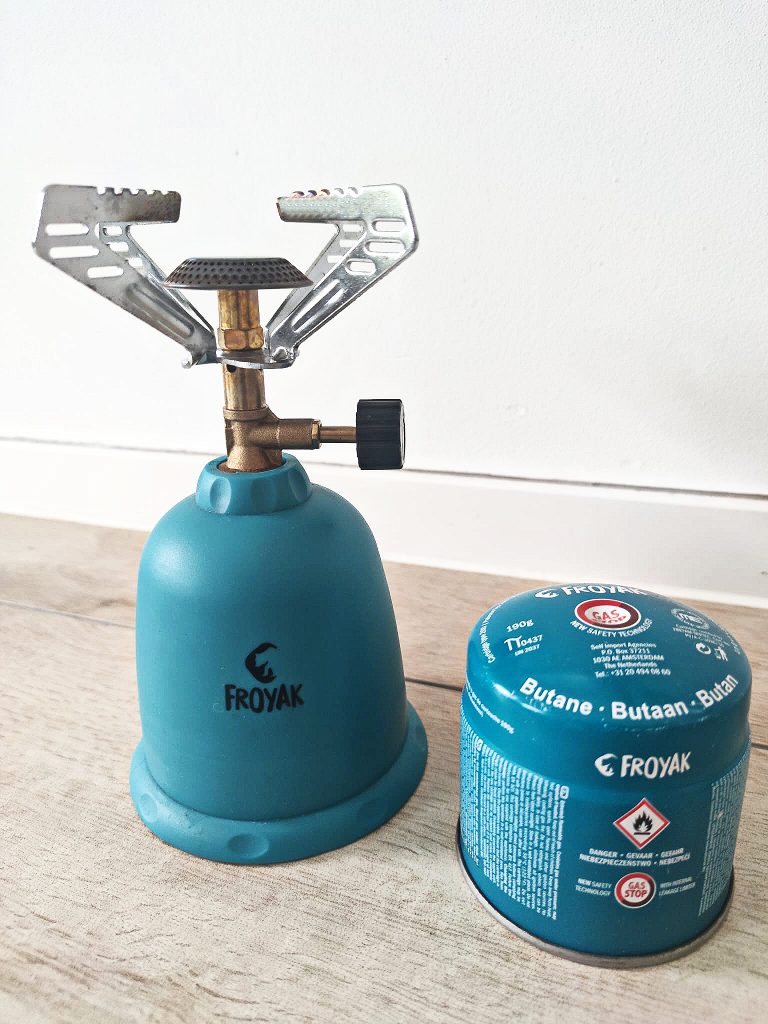 Note: sometimes butane gas is allowed instead of propane gas. Butane is less toxic and it burns cleaner than propane. A big advantage of butane is that you can get more gas out of a small bottle compared to a propane bottle.
Is it allowed to use a camping stove with butane gas at the festival where you are going? Then there are some more options. First off, you will have the option to make coffee (!) or tea in the morning. In addition, you can make some hot meals to warm you up. I always use the same camping stove, namely the one from Froyak (on the left picture). This stove is cheap (about ten euros/USD) and works really well.
Our Festival Camping Stove Picks

Meals using camping stove:
Noodles
Pasta with pesto sauce
Hot soup
Hot sausages
Bakings eggs
Baking mushrooms, peppers, other veggies
Beans in tomato sauce
Pancakes
Actual HOT dog
Canned ragout
Canned beef stew
What NOT to bring to a festival
Everybody wants to be well prepared, but you don't want to take a bunch of stuff you don't actually need. Packing too much is a rookie mistake you really don't want to make. Remember, you will need to take most of it home again. Besides, you can buy almost everything on site.
Here are some things you better not bring to the festival (camping) to be as lightweight as possible:
Excess packing: did you buy a new tent? Or maybe a new sleeping bag? Please remove all of the excess packing before you go to the festival. This saves not only weight, but also waste at the campsite.
Full bag of clothes: this one's for the girls, because I know how hard choosing an outfit can be, especially at a festival! It is better to pick out some outfits in advance, so you don't drag around an abundance of clothes. Bring only one extra shirt and pants just in case. Believe me, you won't need a week's worth of clothes and shoes.
Suitcase: in addition to the above, don't bring a suitcase either! Take a backpack instead.
Anything made of glass: glass is prohibited from being brought to a festival. Even a bottle of perfume will be confiscated at the entrance.
Expensive camera: don't bring an expensive camera, there are plenty of videos and photos being taken by professionals. Photos of you and your friends can be taken just fine with your smartphone. Furthermore, professional film or video equipment is not allowed anyway.
Hopefully this (music) festival packing list helps you to be prepared for your upcoming festivals!
Download Free Music Festival Checklist
Print out your own festival checklist and mark off the things you have packed. Super handy, and free!