While scrolling through Instagram, I couldn't help but notice the hype around Las Vegas' new concert stadium, The Sphere. It got me curious, so I decided to learn all about this venue that's set to change how we enjoy concerts and events. In this blog, you'll find everything you want to know about The Sphere, including its history, development costs, innovative design, and more.
What is The Sphere in Las Vegas?
The Sphere in Las Vegas, often referred to as "MSG Sphere at The Venetian," is unlike any entertainment venue I've ever seen. It's not your typical concert stadium; it's a cutting-edge wonder that promises to immerse and engage visitors like never before.
The Las Vegas Sphere finally opened its doors last friday. It's an enormous auditorium with 18,600 seats that takes LED entertainment to a whole new level. It started with a bang on September 29th with U2's 25-date U2:UV Achtung Baby Live residency.
Copyright 2023: Associated Press / Alamy Stock Photo
History and Development (costs)
The project, designed by Populous, was announced in 2018 by the Madison Square Garden Company. The idea behind The Sphere was to craft a unique entertainment spot, brought to life by imaginative architects and tech pioneers. 
Despite facing various hurdles from the beginning to today, it stands as a symbol of innovation and unwavering determination. Notably, it holds the record as the priciest entertainment venue ever in Las Vegas, with an estimated cost of $2.3 billion.
Despite facing various hurdles from the beginning to today, it stands as a symbol of innovation and unwavering determination. Notably, it holds the record as the priciest entertainment venue ever in Las Vegas, with an estimated cost of $2.3 billion.
How Many People Fit in The Las Vegas Sphere?
For concertgoers, here's the scoop: The Sphere's interior can accommodate a whopping 20,000 standing attendees, and there are seats for 18,600 folks. It's all about creating immersive experiences, whether you're there to enjoy a live performance or catch a cinema screening. The choice is yours!
Copyright 2023: Paparacy / Shutterstock
How Does The Sphere Design Work?
What sets The Sphere apart is its innovative design. The spherical structure is complemented by state-of-the-art acoustics and an enormous LED display that surrounds the audience, creating an immersive visual experience unlike anything found in traditional venues. It feels like you are wearing VR glasses, pulling you into the show. 
However, it's worth noting that the attention isn't solely on the performances inside. The Sphere is also drawing significant notice for the substantial advertising costs associated with its massive 1.2 million LED lights, covering an expansive 580,000-square-foot immersive screen. No wonder that so many brands are already bidding to advertise on the Sphere building. Check it out in the video below.
What are the Best Seats at The Sphere?
The 200 and 300 levels offer a unique advantage of being at eye level with the center of the colossal screen, ensuring an immersive view of the action. On the flip side, seats in the lower level get you closer to the stage, but it might require some neck-craning to look up at the screen. It's worth noting that a few seats at the back of the lowest section might have obstructed views. 
However, what's fascinating is that the top levels offer a different perspective altogether – you get to overlook the entire scene, which could be a cool vantage point for taking in the whole experience. 
Ultimately, it's a matter of considering whether you want to see the artist up close or if that doesn't matter much to you, and you're more focused on enjoying the overall show.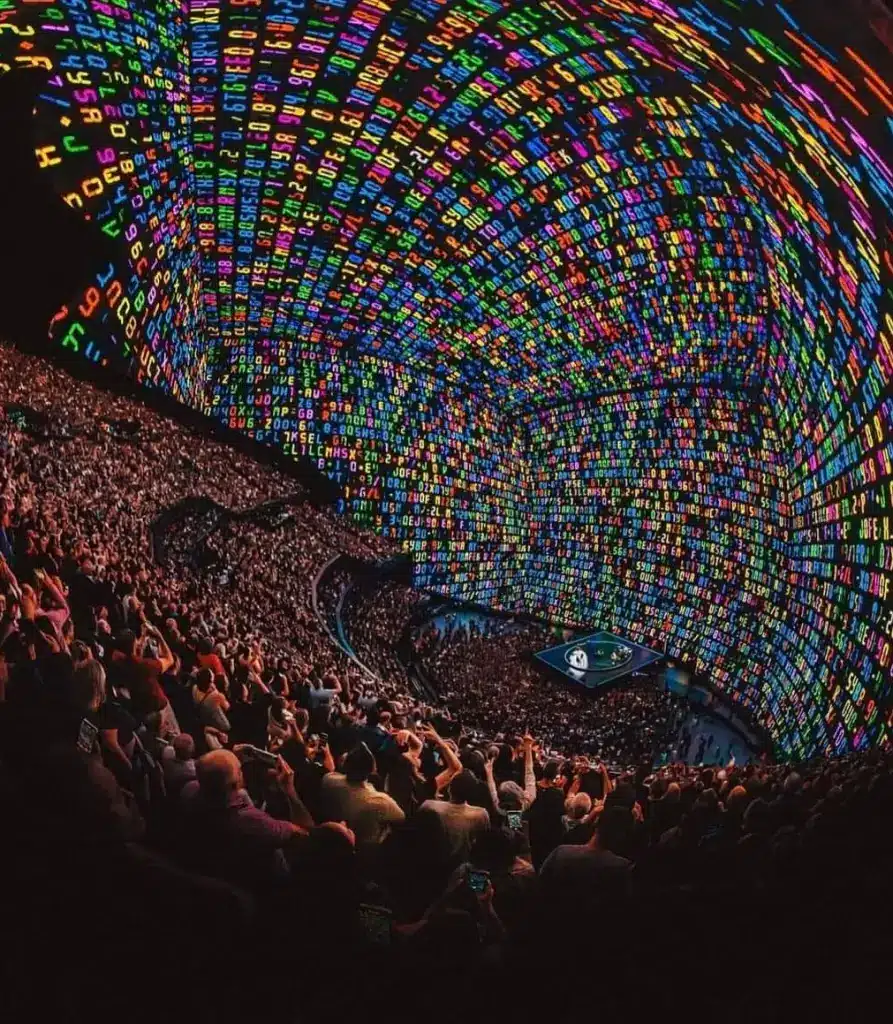 Eating and Drinking in The Sphere
However, you can bring in clear, soft-plastic empty water bottles that can be filled up at the water fountain inside the venue. Just a heads-up, though – they won't allow empty glass bottles or aluminum cans. 
If you're concerned about munchies or staying hydrated, don't worry too much because they'll have food and drink options available for purchase inside. From gourmet dining options to VIP areas that offer a glimpse into the lap of luxury, this venue ensures that visitors are pampered and entertained from start to finish.
Parking and Accessibility
Transportation options to and from The Sphere are plentiful, making it easy for everyone to experience the magic within. For fellow concertgoers planning their trip to The Sphere, here's my take on transportation options: Getting to and from this awesome venue is a breeze. You've got the Deuce shuttle that conveniently runs along the strip. Plus, there's some exciting news on the horizon – they're planning to build a new Las Vegas Monorail station to make access even smoother for both The Sphere and the Venetian.
Now, speaking from my own Vegas experience, I'd recommend avoiding Uber or Lyft after the show, especially on the weekends. Trust me; surge pricing can hit you hard, sometimes reaching as high as $100 or more, and the wait can be quite lengthy. It's a Vegas norm, and it's no fun.
If you want to sidestep the transportation headache, try to stay as close to The Sphere as possible so you can just walk. If budget-friendly lodging is your aim, consider spots within walking distance like the Flamingo, The Linq, Harrah's, or the Horseshoe. 
Coming by Car: Parking Options
For concertgoers planning to drive to The Sphere: Starting October 5, you can snag parking tickets on Ticketmaster for Lot S and valet parking near Westchester Drive and Manhattan Street. Now, the prices may vary depending on the day. For Lot S, you're looking at about $37.50 for weekday parking and up to $100 for parking on the weekend. If you're leaning towards valet parking, it'll be around $72.50 on weekdays and $125 on weekends.
Just a heads-up, these prices can change because Ticketmaster uses dynamic pricing based on demand.
Keep in mind that The Sphere has other parking lots around, but as of now, tickets for those lots aren't up for sale through Ticketmaster. So, if you're planning to come by car, it's good to check the options and prices ahead of time to make sure you're all set for your concert experience.
Also interesting: Electric Daisy Carnival (EDC) Las Vegas 2023: Lineup & Info
---
We want to hear from you! What are your thoughts on The Sphere Las Vegas? Which artists or bands do you think need to play in the Sphere? Share your thoughts in the comments below.
Header image by Ethan Miller / Getty Images