Every year millions of people travel to all kinds of festivals across Europe. In Europe you will find the best music festivals for every genre, whether you like techno, rock or pop music. In this article from FestiSeason, we made a list of the 10 biggest music festivals in Europe. Perhaps you will find inspiration to visit some yourself!
The 10 biggest music festivals in Europe (and UK)
1: Sziget (Hungary)
Sziget festival, also called The Island of Freedom, is Hungary's largest cultural and music festival. It takes place every year in the capital Budapest, on a beautiful 108-hectare island on the Danube. The festival lasts about 7 days and attracts people from all over the world. The first edition took place in 1993. To get in the mood in advance and get to know other festival goers, Sziget has introduced the "Sziget Express. Travel to the festival by train and enjoy beautiful views on the way. An additional advantage: traveling by train is also more environmentally friendly than traveling by plane!
Visitors: 530.000
2: Tomorrowland (Belgium)
Tomorrowland is the largest dance music festival in the world. Every year the biggest DJs from the entire dance scene come to perform at Tomorrowland in Boom, Belgium. Do you like hardstyle, house, dance or techno? Then this is the festival for you! The festival is also known for its beautiful decor and eye-catching mainstage that changes its appearance every year. In addition, there are a lot of interactive experiences, such as workshops, games and webinars. The first edition was back in 2005 with about 10.000 visitors, when most of the visitors were from Belgium and surrounding countries only.
Visitors: 600.000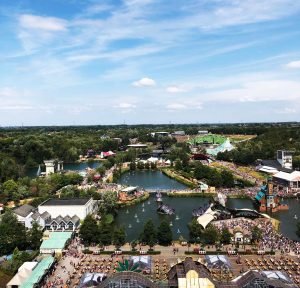 3: Primavera Sound (Spain)
Primavera Sound, also known as Primavera, is an annual music festival held at Parc del Fòrum in Barcelona, Spain. The meaning of primavera is 'Spring season', The season in which the festival takes place each year. The festival itself is a 50-minute walk to downtown Barcelona, which makes it a great festival for a citytrip! You can enjoy all kinds of music genres at this festival: rock, hip pop, pop, indie and electronic. The first edition took place in 2001, in Poble Espanyol. In 2005, the festival moved the venue to the larger Parc del Fòrum adding more stages and attracting more and more people.
Visitors: 500.000
© Christian Bertrand
4: Creamfields (England)
Creamfields is the UK's largest dance festival, held annually in Daresbury. If you are a fan of techno, EDM, drum and bass or trance, you have come to the right place. There are hundreds of international DJs coming to the festival, so there is something for everyone. The festival lasts for three days and is known for its great atmosphere. There are several international editions of Creamfields, with the UK edition taking place on August Bank Holiday weekend. The first edition took place in 1998 in Winchester, but soon shifted to organizer and promoter Cream's hometown: Liverpool. Since 2006, the four-day music festival has taken place in Daresbury.
Visitors: 280.000
© Mark Grassick
5: Glastonbury (England)
Glastonbury is one of the largest music festivals in the UK and is now even one of the most distinctive and iconic festivals in the world. Festival founder Michael Eavis was so inspired after seeing Led Zeppelin live for the first time that he came up with his own event. The first edition of Glastonbury attracted some 1.500 visitors. Fun fact: at the first edition in 1970, you could go to Glastonbury Festival for only 1 pound. All guests received a free glass of milk at the entrance. The festival features music performances for young and old, a little of everything, something for everyone. Artists such as Beyoncé, Metallica, Radiohead, Kylie Minogue and Foo Fighters have performed here.
Visitors: 210.000
6: Rock Werchter (Belgium)
Rock Werchter is a four-day pop and rock festival that takes place every year in the village of Werchter, near Leuven, Belgium. In the beginning, Rock Werchter attracted only a few hundred visitors, but it has now grown into one of the largest music festivals in Europe. The first edition took place all the way back in 1975, making this the second-longest existing festival on this list. It began as a Rock and Blues themed festival. Today, the greatest artists from around the world come here to perform. Although the festival is known as a pop and rock festival, you can discover and see artists from almost all genres live.
Visitors: 340.000
7: Rock Im Park / Rock Am Ring (Germany)
Rock Im Park and Rock Am Ring are two simultaneous rock music festivals held annually in Germany. Rock Im Park takes place at the Zeppelinfeld in Nuremberg and Rock Am Ring takes place at the Nürburgring race track, which makes it a really unique festival site. Rock Im Park is a little bit smaller and is located right next to the city. This way, you can choose to stay in a hotel instead of camping at the festival grounds. 
Rock Am Ring is bigger than Rock Im Park, but also a bit more isolated. If you want to leave the festival, it is a bit harder to go to a nearby city than with Rock Im Park. However, both festivals have an amazing atmosphere and bring the biggest Rock artists we know. Want to enjoy German beer, screaming guitars and curry sausage? Then Rock Im Park or Rock Am Ring is a great experience!
Visitors: 110.000
© www.rock-im-park.com
8: Hellfest Open Air (France)
Hellfest Open Air is one of the largest metal festivals in the world. The three-day festival attracts more than 400.000 hard rock and metal fans from all over the world every year. The metal walhalla takes place annually in the French municipality of Clisson, in the Loire-Atlantique département. Usually this festival takes place at the same time (end of june) as another major European metal festival called Graspop Metal Meeting (in Belgium). The first edition took place in 2006. Since then, tickets for the festival have always sold out within hours. Do you like mosh pits, crowd surfing and a good bucket of noise? Then Hellfest is definitely for you.
Visitors: 420.000
9: Untold Festival (Romania)
Untold is the largest electronic music festival of Romania, taking place in Cluj-Napoca at the Cluj Arena. The festival runs for four days and features more than 300 artists on seven different stages. Like Tomorrowland, this festival is known for its beautiful decor and unique mainstage. In 2015, the festival received an award for "Best Major Festival" and "Brand of the Year" at the European Festival Awards. Since then, the Untold festival has become one of the most popular music festivals in Europe. The first edition took place in 2015, making this a relatively young festival which should not be missing from the top 10 music festival in Europe (even though UK is no longer Europe).
Visitors: 370.000
10: ADE – Amsterdam Dance Event (The Netherlands)
Last but not least, ADE (Amsterdam Dance Event), is one of the biggest dance festivals from around the world. The five-day music festival takes over the Dutch capital every October. There are numerous parties and festivals organized throughout the city during this weekend, counting more than 200 venues across Amsterdam. Most of these parties revolve around techno music. The biggest DJs from all over the world, but mainly from the Netherlands, will hit the stages. Think of artists like: Armin van Buuren, Martin Garrix, David Guetta, Tiësto, Afrojack, Nicky Romero and Dimitri Vegas & Like Mike
Visitors: 400.000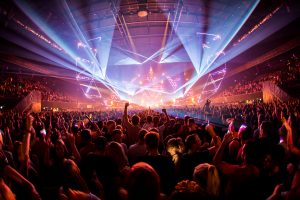 © Lieke van den Oord