No one is a fan of drinking hot sodas or water during the summer, right? Not having cool drinks at the festival campsite is a common problem. Most festival campgrounds do not have electricity. So you can't bring a little fridge with you. Fortunately, I have several festival hacks of cooling-without-electricity that will allow you to still enjoy a cold drink at the campsite. Read on to find out.
Our 8 tips to keep drinks cool at festivals
1. Fill a bucket with water
Do you have cold and preferably running water (at the sinks or via a running river) at your disposal? Then you can use it to cool bottles or cans. Fill a bucket, or several buckets, with water and put your bottles and cans in it. A waterproof bag also works. The difference in temperature between the 'cooling' water and the environment determines the effect of your cooling. It depends on both the volume and the outside temperature, how long you actually cool.
2. Insulate with (aluminium) foil
Aluminium foil is a great insulator to keep your drinks or food cool. This is due to the reflective surface of the foil, Tt acts as a barrier to oxygen and air which can transfer to cold. Anyway, enough scientific facts for now. Take a wrap of aluminium foil with you to the campsite. Tear off a piece and wrap it around your bottle or can. 
3. Wrap bottle or can in a blanket
Did you know that blankets work great as insulations? Survival blankets or insulating blankets don't allow the cold (or heat) to escape through them. Wrap your bottle or can in the blanket and leave it like that for a while. Don't you have an insulating blanket? Grab a normal blanket and make it wet with some water, wrap it around your bottle or can and leave it in the shade. After some time it will be much cooler.
4. Wrap bottle or can in newspaper
If you don't have a blanket nearby, a newspaper article or towel will also do the work. Just like the non-insulating blanket, soak the newspaper or towel in water and wrap it completely around the bottle. Leave it in the shade, preferably with some wind.  
5. Use leftover shampoo bottles to make ice packs
Fill your empty shampoo bottles with water and put them flat in the freezer. Because of the strength of the bottle, you get a good ice pack that lasts even longer. These ice packs are easy to make and it costs you nothing extra. In addition, you know there are no crazy chemical ingredients, just the empty shampoo bottle and water.
6. Bury bottle or can
You've probably heard this tip passed around more than once if you've been to a festival. Burying your drinks in a plastic bag under the ground will keep them a lot cooler. This is because the temperature of the ground is a lot cooler than that of the atmosphere. The deeper you bury the bottles, the cooler the soil, and the cooler your drink will be. Be sure to let the tops of the bottles stick out above the ground, or you might forget where you buried them. 
7. Use a pinch of salt
Did you put your drinks in a bucket or coolbox with ice (cubes)? Spread some salt over the ice for an even better result. Why? The salt lowers the freezing point of the ice cubes and keeps the bottles cold for longer. 
8. An iron pot will do the trick
When you think of an iron pot you may not immediately think of refrigeration, because it is mainly used to keep things warm. In this case, it's the other way around. A cast iron pot is a really good insulator, preventing the cold from escaping quickly. Put your cans and bottles in the iron pot, and cover the pot with a drenched cloth. To speed up the cooling process, you can put in ice on the day of departure. Place the bottles or cans close together to minimize the amount of cold that can escape. This method also requires no effort. The only effort you have to make is to drag the somewhat heavy pot.
How do you keep your drinks cool when camping? Let me know!
What I usually did the first few years of camping was to bring a cooler and fill it with ice cubes. This won't work for more days, of course, but at least it keeps the drinks sufficiently cool for the first day and evening. After that, I would always drive to a nearby supermarket in between trips for new bags of ice cubes to refill the cooler. This takes just a little extra effort, but it is a very effective way to have chilled drinks. Don't forget to put your cans in the freezer beforehand, this will also keep them cool a little longer!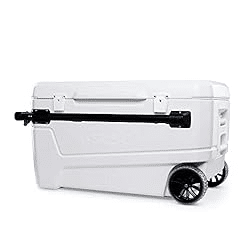 Keep a bunch of drinks cool with this Large Festival Cooler. The cooler has soft-ride wheels for easy transport and a smooth ride. The plus side: it has a LARGE capacity!
This Rolling Cooler Bag is a trolley and cooler in one. It has the capacity for 50 cans. There is room enough for snacks and meals as well. An advantage is that it's easy to clean.
An Insulated Cooler Backpack like this one keeps 54 cans cold for up to 24 hours. Conveniently, this bag also has all different storage compartments: pockets and extras.
Do you have any helpful tips and tricks which are not listed above? Then I'd love to hear how you keep your drinks cool at a festival campsite. Leave a comment below if you like.
Also interesting: