Music festivals and booze go hand-in-hand. However,  Most festivals don't allow any alcohol to be taken into the festival grounds. Considering music festivals are becoming increasingly expensive, and the prices for a drink also go up significantly, it is tempting for many festival-goers to explore the best ways to sneak alcohol into a festival. If you're looking for ways to hide alcohol at a music festival, you've come to the right place. Here are some creative ideas for smuggling alcohol into festivals (or concerts) without getting caught. 
How To Sneak Alcohol Into a Music Festival: 20 Life Hacks
1. Regular Flask: But Where Can I Hide It?
One of the most common ways to sneak alcohol into a festival or concert is a flask. A flask is easy to carry and can be discreetly tucked away. They come in a lot of different shapes and sizes, so you can always find one that you can easily hide in your clothes or backpack when going through security. These days, even all sorts of everyday items have been transformed into flasks, making it completely unnoticeable if you sneak your favorite liquor inside! We discuss the most popular ones on this page.
2. Camera Flask
An example of a vial in the form of everyday objects is the camera flask. With a quick bag check through security, it looks like you're bringing your old school camera to take memorable photos during your festival adventure. This realistic looking camera flask holds 4.7 oz (140 ml), enough for your favorite booze.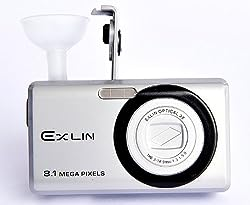 3. Plastic Bag
Another easy and inexpensive way to get alcohol into a festival or concert is to use a plastic bag. Fill a sealable plastic bag with your booze, and then place it in your bag or wrap it in clothing to keep it hidden for security. Be sure to double bag the plastic bag to prevent any spills though!
4. Empty Sunscreen Bottle
A handy do-it-yourself way is by reusing an empty sunscreen bottle. Rinse it well so that there is absolutely no sunscreen residue left in it. After emptying and cleaning it, you can fill the bottle with your favorite soda. The bottle will blend in perfectly with the rest of your toiletry bag stuff, and no one will suspect a thing. Think it's gross to use a used sunscreen bottle? Or do you simply find it too much trouble? Then you can also go for a Sunscreen Flask: A flask that looks exactly like a sunscreen bottle!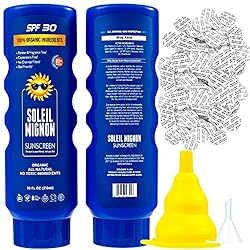 5. Empty Shampoo Bottle
Another obvious way then is to use an empty shampoo bottle to put your alcohol in. Basically, you do the same thing as with the empty sunscreen bottle. Also for this strategy, you can choose to make some kind of flask yourself from an old shampoo bottle (rinse it out well, though!) or buy a Shampoo Bottle Flask that looks tellingly like a real shampoo bottle.
6. Tampon Flask
This one's for the female festival-goers: the Tampon Flask is a sneaky way to hide alcohol at a festival. Simply put it with your toiletries and preferably stand in a line where a male security is checking, no-way he's going to further inspect that box of tampons!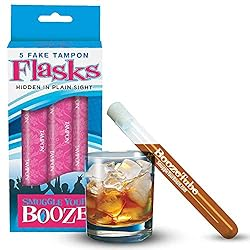 7. Water Bottle
A simple way to smuggle alcohol into a festival is via a water bottle, as long as it's not see-through. Carefully remove the label from an empty plastic bottle and fill it with the drink of your choice, then reseal it. For example, choose a bottle of Sprite or 7Up with a greenish color. There are also water bottles with a hidden compartment on the market, so you can be sure you won't get caught.
8. Wine Rack Bra / Booze Bra
The Wine Rack Bra (or booze bra) is another clever way for female festival-goers to sneak booze into a festival. This bra has a concealed pouch that can hold up to 25 oz (750 ml) of your favorite drink. Fill it up and wear the bra under your clothes. No one will suspect a thing! Note that the drink does not stay cool for long because your body warms up the drink. So it is more suitable for strong drinks than for beer, for example.
Going to a multi-day festival with camping? Then a good way to smuggle booze with you is by hollowing out a loaf of bread inside and putting the bottle of liquor in here. Just cut a little bit off of one end (without cutting through) so there is a 'flap'. Put the booze inside and close the sealing of the bread. Voilà, you're all set!
Photo credits: Jack Clayton
10. Hollowed-Out Fruit
Another creative way involving food to hide alcohol is hollowed-out fruit. I've seen everything from hollowing out a watermelon, pineapple or even a coconut. Simply cut a hole in the fruit, empty the contents and fill it with your beverage of choice. It takes a bit more effort, but it sure is a funny way to get alcohol into the festival.
11. Beer Belly
Here's one for the guys! The Beer Belly Flask is a sneaky and funny way to hide alcohol at a festival. This flask is essentially a pouch that can hold up to 80 ounces (2365 ml) of your favorite booze, and it's designed to look like a beer belly. Just wear it under your shirt, buckle up and you're ready to go! Keep in mind to clean the pouch thoroughly before and after use.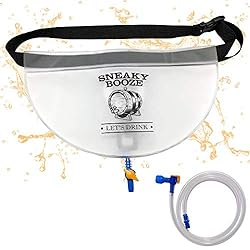 12. Stash Boxer Shorts
This is another strategy for the male festival-goers who don't mind getting up close and personal with their drink. Stash Boxer Shorts are a great and hilarious way to hide alcohol at a festival. Honestly, I can't stop giggling as I write this. These boxers have a concealed pouch that can hold up to 6 ounces (177 ml) of your favorite drink. It is a very good way to unobtrusively bring drinks inside, but… just remember that you have to dig into your underpants for your drink, I dare you doing that sneaky haha!
13. Inside Your Hair
It may be possible to hide mini liquor bottles in your hair by using a creative hairdo that can conceal the bottles. Note that this strategy will only work for people with relatively long and thick hair. One option could be to tie your hair up in a bun or a ponytail, and then use a hair tie or pins to secure the bottle to the back of your head. You could also try braiding your hair and weaving the bottle into the braid.
Photo credits: Medestwolf on Twitter
14. Binocular Flask
I told you there were many flasks in everyday objects, didn't I? This Binocular Flask looks exactly like binoculars. Each eyepiece has two 8 oz bottles for a total of 16 oz for your favorite booze. You can easily drink from the eyepiece. Should security ask why you brought a binocular, you can always say so you can get a good look at the artist from afar on stage! 😉
15. Empty Mouthwash Bottle
Something a lot of festival-goers bring to a festival is mouthwash. So what could be better than reusing an empty mouthwash bottle for drinks! Since this item is mostly taken to festival campsites and will be among your other toiletry bag items, this does not come across as suspicious. Approximately 7 shots fit into a Listerine Mouthwash. 
TOP TIP: mix your booze (vodka or white rum) with something blue.
Use blue gatorade sports drinks for example.
Photo credits: Cosmopolitan UK
16. In An Ice Pack
Vodka or rum doesn't freeze, but of course you can pretend it does with an Ice Pack Flask. Brilliant right?! These two ice pack flasks each contain 14 ounces, which is a whopping 18 shots! They are perfect for a festival day. Take them with you in your cooler and your drinks will stay chilled too.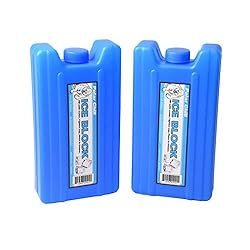 17. Empty Pringles Can
You may have heard this tactic before, hiding the cans of beer in a can of Pringles. Of course, you can also choose a type of drink other than beer, whatever you feel like. Mini alcohol bottles will do the trick too. If you want to go all pro, DO NOT EAT ALL THE PRINGLES, but put some chips on top of the mini alcohol bottles just to be sure. No one will notice a thing. 
Okay let's take a look at some more creative flasks below…. 😉
18. Hairbrush Flask
The Hairbrush Flask is the perfect way for women to sneak alcohol into the festival grounds. This hidden flask holds 6 oz (185 ML) of liquor, which is approximately 7 standard measures. And the best part? This flask not only looks like a brush, but IT IS actually a great brush! It even has a mirror on the back.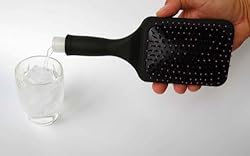 19. Umbrella Flask
Okay this tactic honestly also depends on what the weather forecast is going to be of the place you are going to. Is it going to be a rainy and muddy festival? Then the Umbrella Flask is the ideal way to smuggle alcohol into a festival. On the other hand, there are also those who bring an umbrella just against the bright sun, to create a shady spot…. The chances of being caught for carrying an umbrella are slim anyway.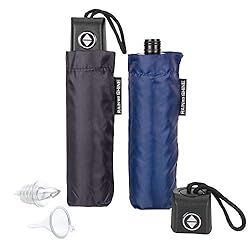 20. Body Lotion Flask
I have one more everyday item flask in store for you, namely the Body Lotion Flask. It even says 'alcohol free' on the bottle, ironic! These body lotion flasks both have room for 10.5 oz (310 ml), which is quite a lot. It is easy to use and looks just like a real body lotion. It also comes with 6 leak-proof seals that you can reuse.
What to keep in mind when sneaking alcohol into a festival?
If you are considering sneaking booze into a festival, there are a few things to keep in mind. First, you should consider the size of the festival and the security measures in place. Larger festivals are likely to have more stringent security measures, which may make it more difficult to sneak booze in. Remember that glass bottles are prohibited to be brought to almost all festivals.
Second, you should be mindful of the temperature and how long you plan to be at the festival. Alcohol can spoil quickly in hot temperatures, so make sure to keep your drinks cool or opt for non-perishable options like liquor. Beer, for example, will rapidly spoil in high summer temperatures. So delve into ways to keep your drinks cool during a festival.
Lastly, it's important to be discreet and respectful of the festival's rules and regulations as much as you can. While it may be tempting to sneak in alcohol, getting caught can lead to consequences like having your alcohol confiscated, being kicked out of the festival, or even legal trouble. Find out what happens if you get caught sneaking booze into a festival below. 
What happens if you get caught sneaking alcohol into a festival?
There are also certain risks that come with trying to sneak alcohol into a festival. If you are caught smuggling alcohol into a festival, security staff may confiscate the alcohol and ask you to leave the festival. In some cases, festival organizers may also press charges for breaking their alcohol policy. The severity of the consequences can vary depending on the festival, but it's always better to follow the rules and avoid any potential issues. If you try at all, do it subtly and in moderation, don't overdo yourself.
Conclusion
In short, sneaking alcohol into a festival can be a fun and creative way to save money and enjoy your favorite drinks. From booze bras to fake tampons or flasks, there are plenty of ways to hide alcohol at a festival. And finally, be confident when entering the festival and remember to drink responsibly, in moderate amounts. 
Prioritize your safety and the safety of those around you and enjoy the festival!
---
Do you have more tips for smuggling booze into festivals? Share your tips or experience in the comments below 🙂
Disclaimer: Some of the links used in this blog are affiliate links which means that I get a small fee if you choose to buy something – this comes at no extra cost to you and allows the site to continue to exist. All the opinions on this page are my own. Thank you for visiting and supporting FestiSeason!