Have you always wondered how much Lady Gaga earns per festival performance? Or how much it will cost to book Metallica for your favorite festival? How much an artist gets paid depends on how famous the artist is, but also on the festival itself. Many famous artists are known to earn millions to perform at a festival, other supporting acts receive "only" about $ 50K and unknown artists sometimes get nothing more than free consumption and tickets to the festival. Find out how much your favorite artist earns to perform at a music festival.
On this page:
How Much Do Headliners Make at Festivals?
Headliners are normally the artists that everyone worldwide knows, even if you don't listen to their music. Some of the biggest earning artists of the moment are Ariana Grande, The Weeknd and Coldplay. According to Billboard.com, The Weeknd was paid $ 8 million to play at the Coachella Festival back in 2018. A year later, The New Yorker reported that Ariana Grande earned $ 8 million as well to perform at Coachella, making her the youngest highest-paid performer at this festival in history.
Artists in pop music earn by far the most. There are also a lot of big earners in the rock and metal world, think of the Foo Fighters (up to $ 2 million) or Metallica (up to $ 1.5 million). The fees for techno musicians such as DJ's are generally slightly lower, but even in this genre there are significant numbers.

Below, you can find an overview of how much high-level artists get paid to perform at music festivals:
| | |
| --- | --- |
| Artist | Paid per festival (on average) |
| Oasis | $ 4 million |
| Lady Gaga | $ 4 million |
| Beyoncé | $ 4 million |
| Dua Lipa | $ 2 million |
| Red Hot Chili Peppers | $ 2 million |
| The Rolling Stones | $1.5 million |
| Tame Impala | $1.5 million |
| Eminem | $1 million |
| Green Day | $ 750,000 |
| Muse | $ 750,000 |
| Slipknot | $ 750,000 |
| David Guetta | $ 250,000 |

The examples above are based on amounts that had been made public. Many more amounts (higher AND lower) may have been paid for the same artist. This is because the amount an artist gets paid varies from festival to festival. Take for example the Glastonbury Festival in England, where Coldplay earned around $ 250K for their performance. This is a lot lower than what they normally earn at a festival. Also, many festivals in the United States of America have larger budgets to spend than major festivals in Europe. 
There may also be certain deals made with an artist. For example, Metallica will perform at Download for no less than two days in 2023 (Thursday & Saturday), this might involve a different price than booking the artist at two different festivals separately.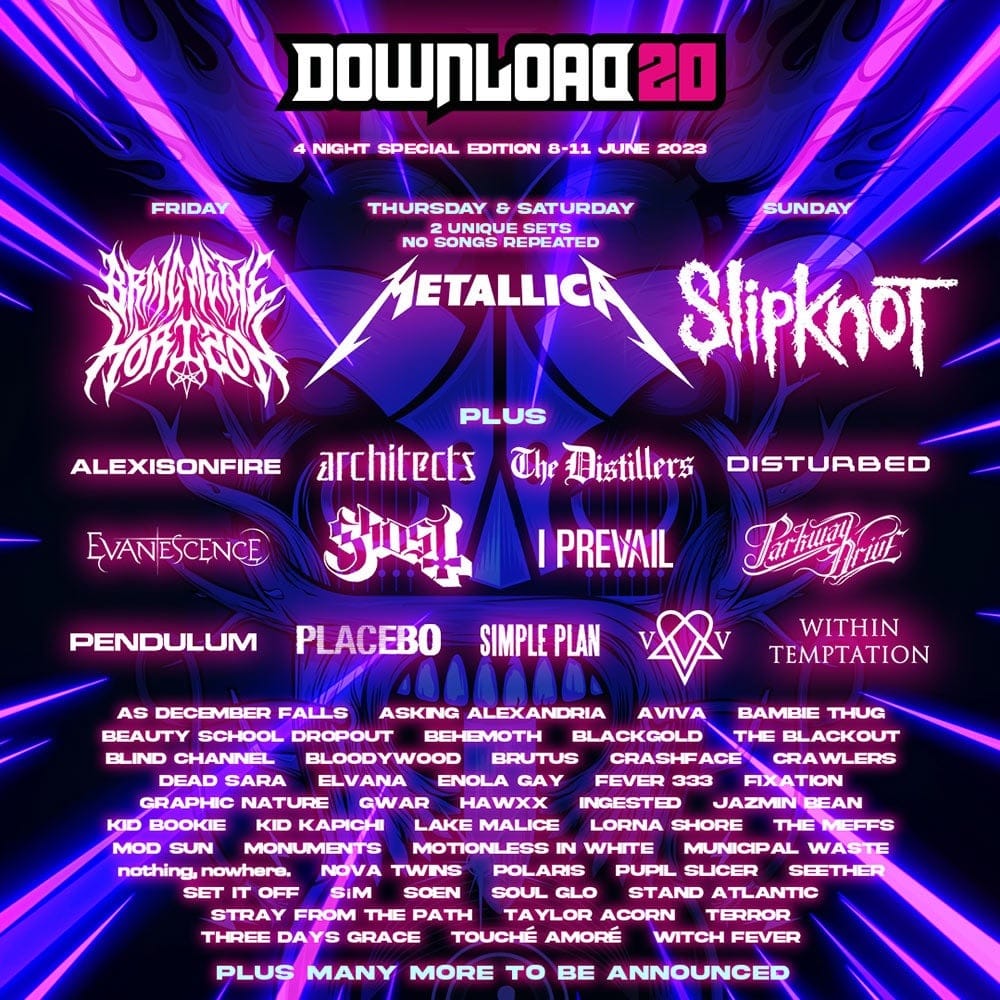 How Much Do Medium-range Artists Get Paid for Festivals?
By medium-range artists, we mean those who are internationally known but not yet at the top of the list of major artists. They have fans all over the world, but are not yet "big enough" to headline a festival. On average, medium-range international artists will earn between $ 20K and $ 250K to perform at a music festival. It also depends on the size of the festival, sometimes the income will not exceed $ 10K, or worse: the artist will earn no money at all for their gig.

Below, you can find an overview of how much medium-range artists get paid to perform at music festivals:
| | |
| --- | --- |
| Artist | Paid per festival (on average) |
| 3 Doors Down | $ 200,000 |
| The 1975 | $ 180,000 |
| Rudimental | $ 85,000 |
| Sum41 | $ 50,000 |
| Sigma | $ 30,000 |
| Netsky | $ 10,000 |
Of course, prices will increase as the artist gets bigger and more popular. For example, the Eurovision Song Contest Winners, Måneskin, were previously known only in Italy, but are now performing at all major festivals around the world.

Time for a little trip down memory lane back to the 2000's! In the video below, listen to one of my all-time favorite songs, a guilty pleasure perhaps, Fatlip by Sum41!
How Much Do Little-known Artists Get Paid for Festivals?
A lesser-known artist is not known to the masses, but is beginning to attract more and more audiences. It is difficult for smaller, up-and-coming artists to make ends meet. There are probably more artists playing for free than you might think. Little-known artists often get less than about $300 – $500 to perform at music festivals. If there is already some name awareness and there is a fan base built up, then this can add up to about $ 1.5K per show.
Some of these bands perform at a music festival at a loss, because they just want to reach a larger audience. So you could actually see it as an investment from the band, where they don't make any money but end up getting more exposure (which will hopefully result in more income). Performing at festivals is also a good way to improve status and expand your network.
Money, money, money
Must be funny
In the rich man's world

ABBA
Factors That Decide How Much Artists Earn at Music Festivals
Booking fees differ per artist and festival. Factors affecting booking costs include:
Demand at the moment
Popularity and fame of the artist
The capacity of the venue
The number of sponsors attached
Career stage
Size (and location) of the festival
We highlight below some important factors to consider as a booking agency if you plan to book an artist.
Venue capacity
What agents prioritize is the total capacity of the venue. By taking into account ticket prices and the size of the venue, the agent can estimate how much revenue the artist can generate. 
Sponsors
It is also very important for many artists to look at the sponsors of the festival where they will be performing. If the festival has a partnership with a brand that goes against the artist's political interests or ideas, the artist may refuse to perform here. Some artists do not want to be associated with certain brands because of something that has happened publicly or because of a previous (negative) experience.
For example, back in 2010, Kelly Clarkson's show was sponsored by a controversial cigarette company. However, Clarkson had written on her blog that she didn't know about the sponsorship from Indonesian tobacco company PT Djarum. Anti-tobacco advocates had fiercely criticized Clarkson that the cigarette company's sponsorship would encourage children to smoke. A group of Clarkson's fans had also launched a website to stop the sponsorship.
After this, the company promoting Clarkson's show announced that the cigarette maker had to remove the sponsorship, otherwise the show would get canceled.  
Fame of the artist
This factor is fairly obvious. The more famous you are, the more people want to see you, the more money you can charge to perform somewhere. It gets really interesting when different festivals start competing to get you on the bill.
The festival itself
The popularity of the festival itself also plays an important role. The bigger and better known a festival is, the more money there is to spend. Big festivals like Coachella will pay better than the somewhat smaller festivals. It makes a big difference whether around 25,000 people come daily, or if the festival has 100,000+ daily visitors.
How Much Does It Cost to Perform at Music Festivals?
Don't forget that the artists themselves also have to contribute a lot to perform at a festival. Not only do you need to pay for the stage decorations, but also for sessions musicians, pyrotechnics, lights, engineering staff and so on. Bigger music festivals often cover the travel, hotel and food costs. Especially when a band is (practically) playing for free. Also keep in mind that a band needs to split the money among many people, whereas a solo artist might have all the profit to his/herself. 
Of course, it also depends on how big you want to go as an artist. For the bigger acts it can be pretty expensive. A good example is the show by Rammstein. In their last tour, the stage cost a total of $ 6 million! It took about four days to assemble the whole circus. In all the stadiums they came to, they set the place on fire, bringing along tall towers that spit fire in the middle of the audience.
Another artist known for her big shows is Lady Gaga. She always brings a large group of dancers with her. And let's not forget about all those cool costumes! If you go to one of her performances you are guaranteed a great experience, musically but also in terms of showbiz. Watch Lady Gaga's performance at the 2017 Super Bowl in the video below.
Conclusion
Performing at a festival does not guarantee you a good income. Especially as a beginning artist, it can be tough to make ends meet because you often get paid little to nothing to perform. Fortunately, it is not impossible; if you believe in your qualities and talent, then by all means go for it!
Once you start building a fan base, it is important to set a fixed price per performance. Don't stray too far from this when negotiating either. Also, be aware of hidden costs. Make sure that you don't have to pay for hidden deductions such as promotion, lights and other unnamed expenses. Go on and conquer the world of music!
---
Sources:
Quora
Metro
TooFab
Billboard
NYS Music
Booking Entertainment